Cody Lee Dopps
Of Our Land
North Gallery - July 2 - September 2, 2012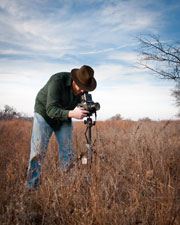 Before living in Oklahoma, photographer Cody Lee Dopps grew up in the foothills of the Rocky Mountains in Colorado. Some of his earliest memories are of ski-school on the slopes of Mount Crested Butte, which led to a love of the great outdoors and a passion for the environment.
In 2005, Dopps moved to rural Oklahoma to work with his father on the restoration of a 100-year-old historic homestead that was settled before Oklahoma's statehood. It was during his daily commute to work on a 20-mile stretch of dirt roads as he passed the outstretched plains that Dopps' real passion for photography emerged. The vast openness of northwestern Oklahoma with its desolate sights and abandoned towns became a theme in his work that carries on to this day.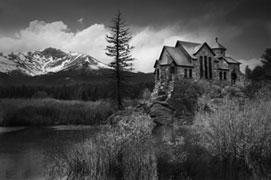 Dopps says, "While traveling around the country roads of Oklahoma, I would get an overwhelming sense of time and of the vastness of the Great Plains every time I would come across one of the thousands of empty and dilapidated homes that are tucked away across Oklahoma's landscape."
Dopps says his photography is a culmination of a love for landscapes and a love for not only these old houses, but also the memories they once held. "At times I will also photograph a new structure in the same manner to set against these old houses as either a foreshadowing of things to come or a reminder of what we could lose if we are not careful," says the artist.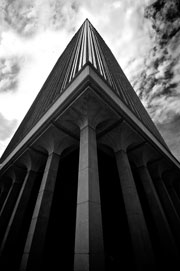 When explaining his process for capturing images, Dopps says, "I rarely, if ever, set out to create a certain image. I learned long ago that when I have a specific image in my mind I become endlessly frustrated trying to make that specific image a reality. Instead, I found that the process is much more rewarding to simply be in the present moment and open to the situation at hand - to photograph the land as I see it before me."
"I have a mental stockpile of locations that might make future photographs," says Dopps. "And, there are certain locations that I've driven past for years just knowing that there is a photograph to be made out there somewhere. So when the time is right, the sun is in the right place, and the clouds are pretty, I just hope that I have my camera with me."
Since 2005, Dopps has worked professionally for a handful of magazines and photography studios around Oklahoma. His photography has been featured in print publications including Homes & Land, This Land Press, E-Town, Thrive Magazine, and Enid on the Move. Dopps' photography has been exhibited at several venues in Enid including the Scribner Gallery and the Cherokee Strip Conference Center, as well as Double Shot in Tulsa. Dopps was a 2007 finalist for the Photographer's Forum Black & White photography contest. He has also been a recurring speaker at an annual photography workshop hosted by Northwestern State University. Dopps currently resides in Edmond.