Julia Ayres
Julia Ayres Prints
North Gallery - April 23 - June 24, 2012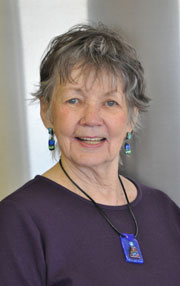 Julia Ayres, a printmaker based on a small ranch at the foothills of the Ozarks near Chouteau, has been creating art all of her life. She was encouraged to draw from an early age by her artist mother and was always known as "the artist" in her classes. Ayres says she has known all of her life that art is what she would do.
Although Ayres' earlier artwork was in watercolor painting, she started printmaking in the mid-1980s after taking a workshop on monotypes at Kala Institute in Berkley, California. After the workshop, she says, "I didn't have a press and wanted to avoid bringing oil-based inks into my studio, so I set out to discover methods of creating water-media monotypes without a press." Ayres wrote about what she learned from her experimentation in several articles which were published in the artist magazine, Watercolor. Her interest and exploration of monotypes opened up further printmaking possibilities, which are featured in this exhibit titled Julia Ayres Prints.
Ayres received her art training at the Art Institute of Chicago, the Museum of Fine Arts, Boston, and the Massachusetts College of Art. She also studied privately with a number of well-known artists, including William Maynard, Ralph Love, and Frederic Taubes.
Through the span of Ayres' award-winning career, the talent to make successful prints is continually paired with her ability to educate through her artwork and as a published author. Ayres has contributed a number of articles to arts magazines including American Artist, Southwest Art, and Watercolor. She has also authored two books published by Watson Guptill including Monotype: Mediums and Methods for Painterly Printmaking, 1991; and Printmaking Techniques, 1993. Today, these books are used in printmaking classrooms across the nation.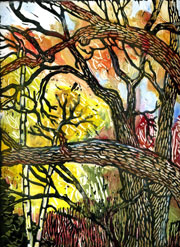 With this exhibit, the artist continues the theme of education through her art. The artwork in this exhibit is created using an array of printmaking techniques, including monotypes, block prints, etched solarplates, Chine-coll?, photo emulsion plates, dry point etchings, relief prints, lithographs, and more. The exhibit is laid out in a manner which allows the viewer to become familiar with the various forms of printmaking by developing a basic understanding of each technique and comparing it to others.
Ayres' artwork has been shown nationally in exhibitions sponsored by such prestigious organizations as the National Watercolor Society, the National Arts Club, the American Artists Professional League, and the Los Angeles Audubon Society.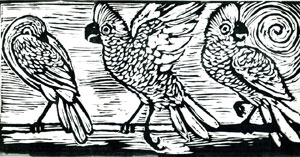 Ayres' prints and paintings are included in many private, public, and corporate collections, including Home Savings of America, First Interstate Bank, Hilton Hotels, Marriott International Hotels, Unocal Corporation, and Toyota Corporation.