M.J. Alexander
Portrait of a Generation:
Sons and Daughters of the Red Earth
North Gallery - February 13 - April 15, 2012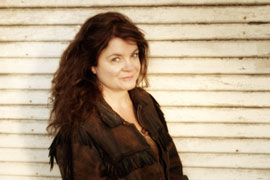 Generations ago, the name of this land was whispered with overtones of hope, of dread, of possibility: Indian Territory. Oklahoma.
It was a feared final stop for tribes forcibly removed from their ancestral homes and told to start over. For others, it was a place to reinvent themselves. They arrived in search of land. Opportunity. Fortune.
Whether invoking its name as a prayer or a curse, those making the trek here hoped the land would allow for a better life for themselves - and for their children.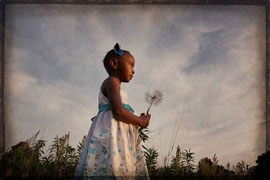 Now at the beginning of its second century of statehood, Oklahoma is home to 3.7 million residents. Nearly 1 million of them are aged 18 or younger.
They are spread over 70,000 square miles, encompassing the wheat belt, the Bible belt, the Confederate South and the American West. Some are descended from Land Run homesteaders, pioneering ranchers and oilmen, survivors of the Trail of Tears. Others were born on the other side of the nation or across the globe.
This project introduces the youngest generation of one of the most fascinating states in the union. From May through October 2010, Oklahoma photographer M.J. Alexander drove more than 11,000 miles - from the Rita Blanca Grassland to the Tallgrass Prairie, from the Blue River to the Glass Mountains - to meet the children of the 46th state.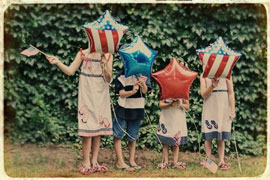 Alexander found them keeping traditions alive - through the rodeo circuit, harvest festivals, ranch barbeques, Vietnamese ceremonies, cowboy church services, Mexican folkloric dances, Czech parades, Indian language schools - and others being introduced to life in Oklahoma for the first time. She found children at food pantries, looking for their next meal; children rooted for seven generations to the same piece of land; children already on the road to national recognition; children looking to make a difference in ways big and small.
Some want to leave their hometown in the rearview mirror, to return later - or maybe never. Others hope to stay in Oklahoma forever, and can point to the plot where they plan to build, on family land near their parents and grandparents.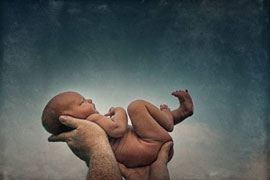 Each child is unique; a self-contained poem, arranged here into verses, stanzas, chapters. Their portrait distills something of their essence and of the story of Oklahoma in the 21st century. Portrait of a Generation is an ode to the land and its people, the sons and daughters of the red earth.
M.J. Alexander documents people and places of the American West, with an emphasis on the very young, the very old, and American Indian culture. The International Photography Hall of Fame describes her as "combining the vision of an artist with the skills of a storyteller." Her work has been featured on national magazine covers and exhibited here and abroad.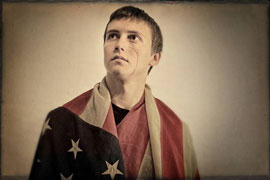 Alexander spent her first 20 years in a town of 250 people on Lake Superior in Michigan's Upper Peninsula, attending a two-room schoolhouse and working as a park ranger and sportswriter before earning degrees from Vassar College and Columbia University's Graduate School of Journalism. She is a dual citizen of Canada and the United States and has reported from five continents. She is a veteran of The Associated Press in New York City and former head of the journalism department of St. Michael's College in Vermont.