Nancy Werneke
Photography - Composed Moments
North Gallery - September 17 - November 25, 2012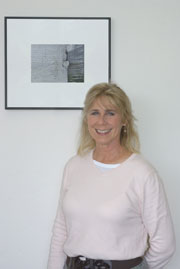 The art of photography and the practice of its craft are integrally linked - the essence of what every serious photographer wants to achieve.
- Ansel Adams
Bethany photographer Nancy Werneke sees film photography as a graceful art. From visualization of the image, exposure of the film, and throughout the developing process, she says it requires layers of experimentation, imagination, and discovery. "Film printing evolves slowly," says Werneke. "The quiet slowness in the darkroom can be an introspective experience that illuminates life."
"Vividly, often subtly, photography becomes a language for emotions," says the artist. "It encourages time for seeing things and people rather than merely glancing. Sometimes with sadness, sometimes with joy - captured light communicates beauty, truth, and simplicity of form. Before the photograph, a creative process has already taken place."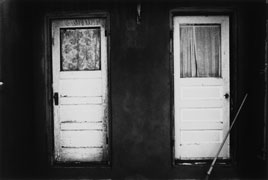 Werneke says that to her, photography is a focused method of communication. "It allows us to saturate the memory of moments - the feeling, the thought, the remembrance. This graceful art gives me joy, a means of expression, and is sometimes my way of finishing a sentence."
The photographs included in this exhibit, titled Photography - Composed Moments, were captured with 35 mm and large format cameras. The images were photographed in New Mexico, Colorado, Texas, and Oklahoma. Werneke says she most enjoys black and white film as she sees the entire process of photographing, developing, and printing as a labor of love. The exhibit includes gicl'e prints on fine art paper, however most are silver gelatin prints, which are silver particles in an emulsion affixed to a paper base.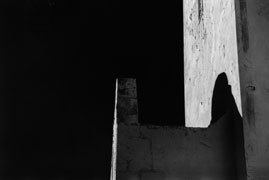 She presents her photographs without a signature on the front so that the image is presented purely and remains the focus of expression.
Among influences to her photography, Werneke names Ansel Adams, Dorthea Lange, and Edward Steichen. As for her most specific inspiration, Werneke sites Moonrise, Hernandez, New Mexico, 1941 by Ansel Adams. "What a moment," exclaims Werneke. When capturing images, Werneke says she thinks about that photograph. "I then compose in the camera, manually set, hold my breath, and hope the darkroom confirms what I saw."
Werneke attended Oklahoma City University and graduated with a Bachelor of Arts degree in photography in 2007. She is a member artist at 50 Penn Place Art Gallery and has participated in numerous juried exhibits through the Norick Art Center, Norman Park Foundation, Oklahoma Art Guild, and the Paseo Arts Association. Her photographs have also been exhibited at The Barn Gallery in New Ulm, Texas as well as at a.k.a. Gallery and Paseo Art Space in Oklahoma City.