Douglas Henderson
Doors of No Return
North Gallery - June 24 - August 25, 2013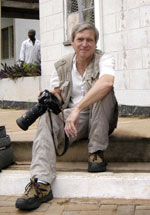 Transatlantic slave trade took place across the Atlantic Ocean from the 16th through the 19th centuries. The vast majority of slaves transported to the New World were Africans from the central and western parts of the continent, sold by Africans to European slave traders who then transported them to North and South America.
Along the coast of Africa stand the grim remains of about 30 castles or forts, the trading posts of the transatlantic slaves. Captured African people were held in the dungeons of these castles until slave ships could arrive to carry them to the New World and a life of slavery. Over the span of 350 years, as many as 12.5 million people passed through these portals during their descent into slavery.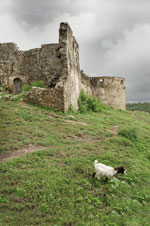 In 2004, Oklahoma photographer Douglas Henderson was in Ghana, Africa, when he first encountered one of the castles used during the transatlantic slave trade. "This was a huge, grim, strange, dark, ominous place," he describes. "At that time, I only had a few minutes for quick snapshots, nothing like the place deserved. Besides, I was certain that a place this historically significant had already been photographed many times. But when I got back to the USA and started researching Africa's slave castles, I learned otherwise; there was almost no documentation of these places."
In 2010, Henderson returned to Africa with fellow photographer Greg Merrell with the purpose of photographing the remains of as many slave trading forts and castles as still remained. Their goal in capturing imagery of these sites was to introduce the physical and symbolic poignancy of the castles to audiences that remain unaware of their existence and history.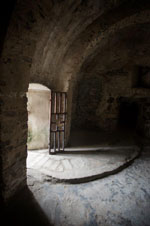 The duo spent weeks in Ghana, Senegal, and the Gambia photographing 28 various sites. They returned with 10,000 photos of the crumbling ruins that once held captives bound for slavery. The work is believed to be the most extensive documentation in existence of these historic sites. This exhibit, titled Doors of No Return, features select photographs by Henderson from this journey. Of his photographs, Henderson says, "I'm not a historian, neither a sociologist nor an anthropologist, so much of this, I don't understand. But I feel deeply that there is something to be learned from studying these places and my photos of them."
Photographs from the collaborative project have been exhibited at the Philbrook Museum of Art in Tulsa as well as in Antwerp, Belgium. In addition, a coffee table book of images captured by Merrell and Henderson titled Slavery's Castles will be published this year by the University Press of Mississippi.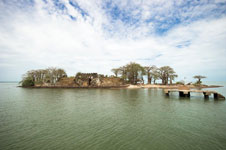 A native of Oologah who now resides in Owasso, Henderson has worked as a professional photographer since 1985. His photography has been published in Newsweek, Newsweek Japan, the New York Times, Oklahoma Today, the National Enquirer, the National Examiner, and many other local and national publications. His subjects have included Warren Buffet, AIDS research in Africa, the Amazon rainforest, the Galapagos Islands, and remote villages in Romania and Africa.
Henderson's photographs have been featured in a number of coffee table books, including Tulsa: A Photographic Portrait of the Tulsa Region, Omaha: Where Imagination Meets Opportunity, Black Hills: Beyond All Expectations, and Gainesville: Every Path Begins with Passion. He has also authored several textbooks on photography and graphic design and has been an adjunct instructor of photography at Tulsa Technology Center since 1997.