Grant McClintock
Osage County
North Gallery - February 11 - April 7, 2013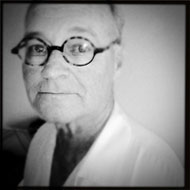 For this exhibit, titled Osage County, photographer Grant McClintock focuses on the northeastern Oklahoma region he currently calls home. His images capture the uniqueness of the area, highlighting the people and landscape that trademark the county.
McClintock says he finds the landscape of Osage County familiar and comfortable. "It is a complex but quiet landscape - a subtle mixture of texture and tone, which the eye can fail to appreciate at first glance," he describes. "A fall pasture might appear to be a monotonous brown mass as you drive past. But hike through it and you will discover that particular brown is composed of a hundred shades of red, green, blue, and yellow."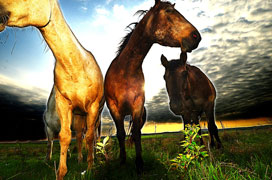 McClintock was born in Tulsa, Oklahoma. He attended boarding school at Choate Rosemary Hall in Wallingford, Connecticut, before graduating from college at the University of North Carolina. He was first introduced to photography when he received an old Contax rangefinder camera for Christmas while in college. McClintock says he was instantly fascinated with photography. He began shooting photographs obsessively and turned his bedroom into a darkroom for film development. His practice was further honed by pouring over countless photography art books about artists such as Cartier Bresson, Robert Frank, and Edward Weston. Soon after, he became a photographer for the Daily Tarheel, his university newspaper. He says he has been a photographer ever since.
After graduating from college, McClintock began his professional photography career while exploring the world. He lived in London for a short time before taking a job as photo editor for a company in Palo Alto, California. Later, he founded Magazine Street Studio, a commercial photography studio in New Orleans. He also opened The Photo Exchange, the first photography-only gallery in the South, in the French Quarter.
McClintock moved to Sun Valley, Idaho, in 1989 and began working on a book of photographs of Western fly-fishing rivers. The project took him through the Rocky Mountains from New Mexico to British Columbia to capture images. The book, titled Flywater, was published by Lyons & Burford of New York in 1994. After moving back to Tulsa he completed a second book on rivers, this time focusing on the eastern region of the continent. He captured images of trout and salmon streams from Georgia to Nova Scotia. The book, titled Watermark, was published in 1998.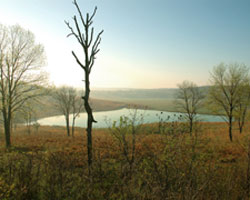 McClintock now resides in Osage County. He is currently working on a book on the Drummond Ranch. Some of those photographs are included in this exhibit. He also continues to do portrait, commercial, and gallery photography work in Tulsa. His photographs have been acquired by the Philbrook Museum of Art, the Museum of Northern Arizona, and numerous private collections.
Of his process for this exhibit, McClintock explains, "All the images here were taken with a digital SLR, except Indian Blanket, which was shot with an iPhone. To some degree, all the images have been manipulated, but that would hold true for everything I have printed since the late 1960s. Grackles has been Photoshopped into dreamscape. Osage Elvis is presented pretty much as I saw it. The others fall somewhere in between."