Angela Piehl
Unnatural Order
North Gallery - December 8, 2014 - February 1, 2015


Angela Piehl's drawings address luxury, accumulation, and alienation from nature from a female perspective. Through her imagery, she creates metaphorical and narrative references to femininity, loneliness, and decay by combining elaborately decorative elements with images of organic forms such as crystalline structures, eggs, bone, and wood.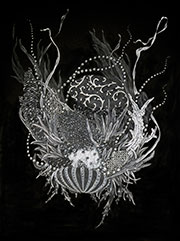 To create her drawings, Piehl begins by collecting imagery from media sources, such as lifestyle magazines, and arranges them in a collage before sketching. Of the source images, Piehl says, "Images I collect contain highly synthetic representations of nature and natural beauty, and this artifice and irony becomes layered into my content by using organic material as a means of further emphasizing and contrasting the organic and synthetic."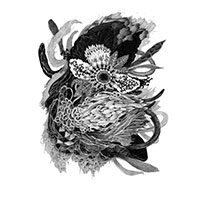 Angela Piehl is an Associate Professor of Drawing, Painting, and Digital Art at Oklahoma State University in Stillwater. She received her Bachelor of Fine Arts from the University of Texas in Austin with a concentration in Painting and Printmaking and received her Master of Fine Arts in Painting and Drawing from the University of Arizona in Tucson. Previous to joining the faculty at Oklahoma State, Piehl taught as a Visiting Assistant Professor at Miami University in Oxford, Ohio, and as a full-time Lecturer at Texas State University in San Marcos, Texas.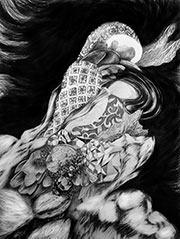 Piehl's artwork has recently been featured in solo exhibitions in Houston, Indianapolis, Chicago, and New York. Her artwork can be viewed at the Los Angeles Center for Digital Art, the Kala Art Institute Permanent Collection, and the New Mexico State University Art Gallery Permanent Collection.
Piehl has participated in several highly competitive Artist Residency programs in Wyoming, California, Vermont, and New York. She has also lectured at various College Art Association Conferences, and served as a Visiting Artist Lecturer at Clemson University in South Carolina, Loyola University in New Orleans, and Appalachian State University in Boone, North Carolina.