Eyakem Gulilat
Collaborative Self
North Gallery - September 29 - November 30, 2014


Originally from Ethiopia, with a Bachelor of Arts from Abilene Christian University and Master of Fine Arts from the University of Oklahoma, Norman artist Eyakem Gulilat's artwork is rooted in a quest for belonging. Gulilat focuses on the complexities of cross-cultural encounters and perceptions of time, memory, and place. His photography examines the differences between subject and photographer, the borders that distinguish us from one another, and the ways our perceptions shift when we view each other through the camera's lens.
For the photographs included in this exhibit, titled Collaborative Self, Gulilat used the century-old method of photography to explore his presence in America as a newcomer. As an Ethiopian immigrant who now calls Oklahoma his home, he chooses to explore the landscape, its inhabitants, and his own Ethiopian identity. The result is a series of collaborative triptychs which blur the boundaries between American and Ethiopian, and photographer and subject. Gulilat explains, "I extend my Ethiopian identity by inviting my subjects to dress in traditional Ethiopian clothing. The clothing is a metaphor for the exchange of ideas. Not only am I introducing my subjects to a component of Ethiopian heritage, but I am also challenging the viewer's expectations of what it means to be Ethiopian. This project allows me to write myself into the history of the American landscape, but more importantly, this project questions the boundaries that separate us from one another."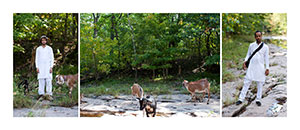 Through his artwork, Gulilat explores how identity is formed in the in-between spaces of cross-cultural encounters. "I gravitate towards communities which are underrepresented and who are socially and spatially excluded from mainstream," says the artist. "I treat my camera as a tool that captures one moment of a larger dialogue which occurs between me and my subjects. Using a direct photography approach, my art thrives on my interaction with people."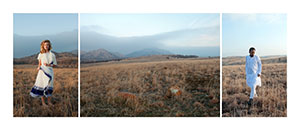 For the photographs included here, Gulilat reconstructed specific memories from his past in an ironic representation that is simultaneously playful and serious. "By reinterpreting the past, I seek to collapse the space between my experience as a child growing up in Ethiopia and my presence in America," he explains. "Having grown up in Ethiopia, Kenya, and the U.S., how do my memories and understanding of time and space shape who I am?"
In Collaborative Self, Gulilat examines the role of the camera in his work. "More important than the single frame depicting a misplaced individual in Ethiopian garb is the space and dialogue which occur between the photographer and the subject.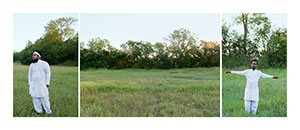 Dialogue is an important component of my work as it describes the exchange of ideas, the exploration of identity, and the blurring of one's boundaries. I shoot in a series of triptychs: after photographing my subject, I hand the camera over to the individual so that he/she may photograph me in turn. This process forces me to relinquish control and dwell in the space in front, rather than behind the camera lens. Lastly, I photograph the space in-between myself and my subject."
Gulilat was selected as an artist in residence at the Center for Photography at Woodstock, New York, and at Newspace Center for Photography, Portland, Oregon. Gulilat has received several awards, including the Oklahoma Visual Arts Fellowship from the Oklahoma Visual Arts Coalition and the National Photography Fellowship Competition at the Midwest Center for Photography. Gulilat was recently a resident artist at the Hardesty Art Center in Tulsa where he produced a body of work titled Tulsa Mosaic, a creative response to the 1921 Tulsa Race Riot. His photography has been exhibited across the United States and Canada and has been acquired for private and public collections. Gulilat's artwork is currently included in State of the Art: Discovering American Art Now at Crystal Bridges Museum of American Art Bentonville, Arkansas.