J. Don Cook
One Man's Vision
North Gallery - March 24 - May 18, 2014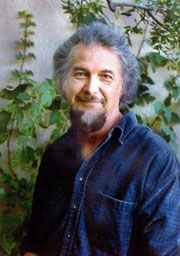 J. Don Cook, a resident of Oklahoma City, is an award-winning photojournalist, artist, and writer. Nominated three times for a Pulitzer Prize and named News Photographer of the Year seven times by the Oklahoma Press Association, his photographs have appeared in such magazines as National Geographic, Time, Newsweek, and more. In the 1970s, Cook was named one of the top nine photographers in America.
Cook's latest collection of photographs and essays, published by the University of Oklahoma Press in a book titled Shooting from the Hip, recently won a Western Heritage Award as the best photography book of 2011. A heartfelt tribute to the spirit and people of Oklahoma, the book showcased Cook's rich talent for storytelling and instinctual timing for capturing profound images. Today, Cook spends most of his time creating widely-collected sculptures, paintings, and prints. His artwork can be found in major private and public collections around the country, including Frito-Lay, Kodak, Inc., Hyatt Regency, and the Oklahoma City Museum of Art.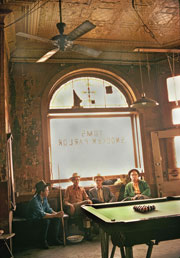 In preparation for this exhibit, titled One Man's Vision, Cook sat down with writer Heide Brandes for Art Focus Oklahoma, a publication of Oklahoma Visual Arts Coalition. "My life is eclectic, and my work is everything from Pulitzer Prize-nominated photos to spot news to art photography," said Cook. "The exhibit will be a mixture of work I did as a photojournalist and some I did artistically." The wide variety of influence on Cook's body of work comes from journeys through Oklahoma and America. In some shots, Route 66 is a theme. In another, a lone horse grazes near a battered old barn. Some shots were captured for news stories published long ago, but Cook has now revisited them and added hand tinting to the old black and white photographs. "It takes the news shots to a different level," he explained.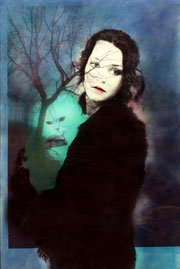 Cook, a native of Byng, Oklahoma, is a self-taught artist. He began his career as a photojournalist for the Ada Evening News. Although he had little experience, the skill seemed born into him, and he became one of the most successful photographers in the state. He was later employed by The Daily Oklahoman as Director of Photography. During his 11-year tenure, Cook earned multiple awards for capturing the images the world wanted to see.
These days, Cook is flexing his creative muscle in other ways. He admits that photography has taken a back seat to his new pursuits of sculpting, jewelry-making, art, and mostly writing. He publishes short stories and poetry and is working on a second novel.
"I don't like to say I'm a writer. My principle career has been as a photographer," he said. "I have this body of work that lots of people haven't seen yet."