Marwin Begaye
Migrations
North Gallery - September 7 - November 8, 2015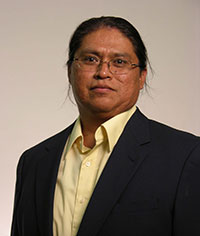 Marwin Begaye is an internationally exhibited printmaker, painter, and nationally recognized graphic designer. As Associate Professor of Painting and Printmaking at the University of Oklahoma's School of Art & Art History, his research has been concentrated on issues of cultural identity, especially the intersection of traditional American Indian culture and pop culture. He has also conducted research in the technical aspects of relief printing and the use of mixed-media.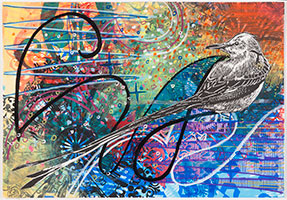 As a Native American, Begaye recognizes that he inherited a sense and desire for making the world beautiful. This aesthetic inheritance has dominated his artwork as it has developed from purely objective images – dancers and portraits – to his more abstract work referencing his community and its ceremonial ways of life. "This need to make things beautiful comes to me from a long line of artists in our family who live to achieve hozhó, the Navajo concept of being centered in beauty," he explains. "This continues to be relevant for me artistically and personally."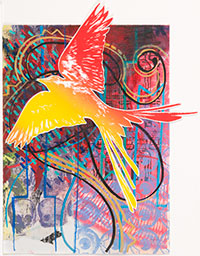 This exhibit, titled Migrations, includes woodcut and mixed media prints and paintings featuring imagery of birds. How the bird became relevant in his artwork is a story of artistic migration for Begaye. In 2004, Begaye began developing artwork addressing health issues in the Native American community. "The series focused on the malevolent epidemics that have caused so much hardship – including diabetes, alcoholism, and poor life choices – often due to poverty," says Begaye. "This focus started to take a toll on my own well-being, as I lived with the realities of these forces in my personal life and in my art. As I sought to regain hozhó, I noticed the prevalence of birds within our traditional practices. I began observing the birds that visited my home, feeding them, and giving them my attention. As I worked my way back to the center, the birds have guided me on my journey. The result, of course, is that they've worked their way into my imagery."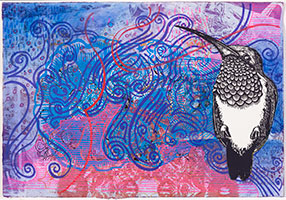 Throughout this body of work, Begaye has experimented with graphic patterns behind the birds, often borrowing from the textile patterns of his grandmother's weavings. "As digital constructions inspired by textile designs, I have partnered the background design with the birds' sense of place. As these patterns have increased in their complexity and drifted towards abstractions, so has my experimentation in the relief process. I have tried to defy the static design presentation by creating flux through the lines, evoking the movement of air – again, thinking of the birds."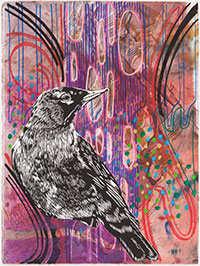 Begaye's artwork has been exhibited nationally and internationally in New Zealand, Argentina, Paraguay, Italy, Siberia and Estonia. He has received numerous awards, including the Oklahoma Visual Arts Coalition Fellowship, First Place at the Red Earth Festival and Best in Category in Contemporary Painting at the Gallup Inter-Tribal Indian Ceremonial. He has been featured in many publications and is represented by Gallery 901 in Santa Fe, New Mexico.