Robert Goddard
Through the Looking Glass
North Gallery - February 9 - April 12, 2015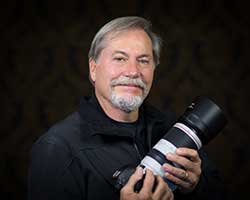 Elk City photographer Robert Goddard's first encounter with a camera was in 1972 on an Air Force flight line in Guam when a crewman showed off a new 35mm film camera. Goddard was inspired and purchased a camera of his own the next morning at the military Base Exchange. With his new camera, Goddard's creative spirit was unleashed.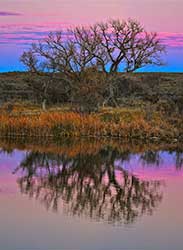 Upon returning stateside to Sacramento, California, Goddard photographed whatever struck his interest and swiftly realized his passion for photographing nature. He transformed the walk-in closet of his one-bedroom apartment into a darkroom and practiced his technique. He quickly found success by winning first place in the only two photo contests he entered in California.
After completing his military duty, Goddard and his wife settled in Altus, Oklahoma to raise a family. They later moved to Elk City where Goddard established a full time career in the logging industry, but photography was never far from his focus. He explains, "Photography is pure enjoyment as the minute details of nature provide me with a humble sense of awe. I am always pleased when others view these colorful and breathtaking moments for the first time."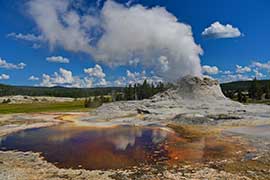 Goddard has always considered himself as an active observer of nature. Growing up in a military family, he had the chance to live in many new places. Looking back, Goddard says he wishes he had his camera while growing up to record the beauty of Delaware, Hawaii, and Saipan beaches.
Complementing Goddard's enthusiasm for taking nature photographs is his love of travel. In addition to Oklahoma, his portfolio includes scenic images from Colorado, Texas, Wyoming, California, and New Mexico. He aims to bring a new perspective to the Redwood Forests of northern California, Enchanted Trails of Santa Fe, and back roads of the Southwest.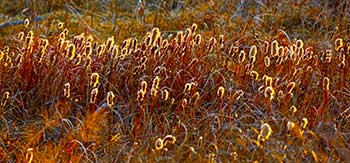 Goddard's photography has been exhibited at several venues including The Metcalfe Museum and Art Gallery in Durham, Oklahoma, Canadian River Art Gallery in Canadian, Texas, the Altus Public Library, and more venues in western Oklahoma. His work is often purchased for private and public collections.