Ronna Pernell
Unspoken Woman
North Gallery - November 16, 2015 -January 17, 2016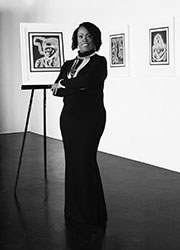 Unspoken Woman, an exhibition by Oklahoma City-based artist Ronna Pernell, honors the trials and triumphs in the lives of African-American women. The included artwork visually expresses the essence of every phase of a woman's life, from birth to death, and highlights the individual paths in their journeys. To gain an in-depth perspective on the diverse lives of African-American women throughout history, Pernell explored historical literature. She also met with a variety of women to gain insight into how they have evolved as individuals and how they view their lives fitting into society.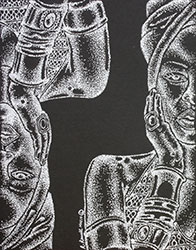 With this exhibition, Pernell says she hopes to empower women through art and start a conversation about the past and future of women in society. "This story and message of Unspoken Woman is autobiographical in some regards, but expresses the lives of many African-American women in society," says the artist. In conjunction with the exhibition, Pernell has worked with local writers and professors to create a narrative story complementing the artwork that can be found at www.UnspokenWoman.com.
Pernell has been honing her artistic skills since the age of seven. Throughout her education, she participated in various art courses and seminars and attended Foster Estes Vo-Technical School where she studied commercial art. One of the first honors in her career was receiving the 1983 Young Talent of Oklahoma Award for her artwork that was subsequently displayed at the Oklahoma Governor's Mansion.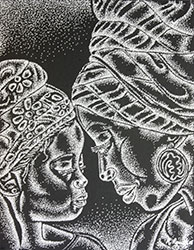 Within Pernell's portfolio of portraits, she aims to capture the beauty and cultural expression of human life. Born in Oklahoma City during a period where the rights of women were at the forefront of conversation, the subject has remained an inspiration throughout her career. "The plights of women and children have profoundly impacted me and driven my passion to create art that is rooted in the topic," says Pernell.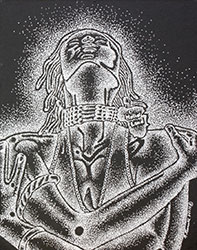 Pernell uses a pen and ink technique called stippling to create her artwork. Stippling is the creation of a pattern, using dots to produce varying degrees of light and shade. Her technique, utilizing Bristol paper and rapidograph pens, is mainly self-taught or learned from fellow artists who have shared their visions and interpretations with her.
A longtime member of the Oklahoma Visual Arts Coalition, Pernell supports the organization each year by donating artwork to the annual 12x12 fundraiser. From her studio in south Oklahoma City, Pernell stays busy creating commissioned artworks for public and private collections across the country, including the collections of Walter "Clyde" Orange of the Commodores; Deida Massey, the celebrity makeup artist from Makeup Maven; and, The Faces of Reel Beauty, a mentoring program for young girls.