Tim Hearne
Calculated Lines
North Gallery - January 25 - March 27, 2016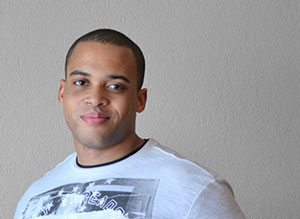 In Calculated Lines, Tim Hearne takes a fresh approach to realism, a style of art dedicated to representing subject matter truthfully and avoiding artistic precepts. Through the use of traditional drawing techniques, Hearne introduces precision and detail before pushing viewers to explore their own ideas of what reality is with painterly brushwork and fluid lines. The result is a dynamic interplay of representational drawing and imagined realities.
Hearne describes himself as an artist who is primarily focused on different takes on realism and occasional projects in other styles. "I like to convey a story, phrase, word, or statement through my work and allow the viewer to elaborate on their own," says the artist. "My hope is to evoke a response from the viewer through the balance of composition, technique, and subject matter."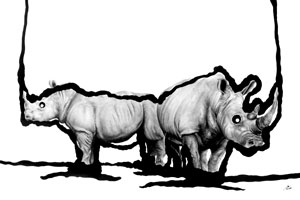 Hearne explains that the overall goal of his artwork is not to achieve realism but to use it as a launching point for the viewer's artistic experience. Whereas true and complete realism might mislead the viewer into a false reality – such as believing what they see to be real, Hearne's realism fades into painterly lines, bringing the viewer in on the fact that it is art and inviting them to continue the story in their imagination.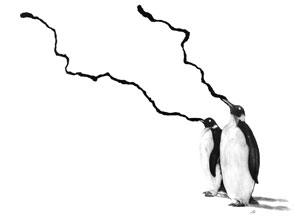 Of the title, Calculated Lines, Hearne explains, "It is a play on the fact that even when trying to have a free flowing aspect to each piece, each line was planned and contemplated." For his composition, Hearne begins with the dry media of graphite and uses photographs for reference. Later, he introduces wet media, acrylic paint, to achieve looser lines and convey a sense of flow.
Residing in Moore, Oklahoma, Hearne is a self-taught artist with a burgeoning career in the arts. He first garnered attention when his artwork was included in Momentum, an Oklahoma exhibition for artists under the age of 30. His music-head series became a crowd favorite. In 2013, Hearne was featured in a group exhibition at Exhibit by Aberson in Tulsa, where he displayed detailed pencil portraits of popular hip-hop artists. In addition, he has been included in esteemed group exhibitions organized by Inclusion in Art, an organization dedicated to advancing racial and cultural diversity in Oklahoma's visual art community, as well as at Living Arts in Tulsa and Oklahoma Contemporary in Oklahoma City.