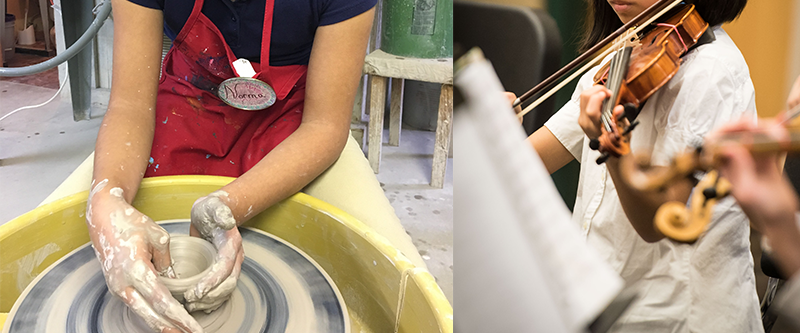 Classroom Supply Grants
for Visual and Performing Arts

Teachers and education leaders across the state have made it clear to the Oklahoma Arts Council that classroom art supplies are one of their greatest needs in delivering high quality visual and performing arts education programs. Funding for art supplies is essential for Oklahoma schools to sustain valuable art programs that help students succeed in their education and beyond.
To meet this critical need of schools in our state, the Oklahoma Arts Council offers Classroom Supply Grants of up to $500 per site per school year to purchase supplies and materials for visual and performing arts instruction that takes place during the school day. 
Application Timeline
September 1 - Grant applications are made available. Schools may submit an application anytime through the deadline.
November 1 - Application deadline
December 15 - Schools are notified about their awards.
March 1 - Final reports are made available. Schools may submit their final reports anytime through the deadline.
April 1 - Final report deadline
Payment - Payment is processed after we receive and review a school's final report and any required support material. Payments may take up to six weeks to process.
Who Can Apply?
PreK-12 public, public charter, and non-religious private schools are eligible. Schools must have at least one part-time arts instructor in the discipline for which they are requesting funding.
What Supplies Can Be Purchased?
Classroom Supply Grants are designed to support the purchase of consumable, non-permanent items. The following items are examples of eligible supplies. This is not a complete list. Disciplines not listed may be considered where applicable:
Dance
License fees for use of music

Dance shoes, costuming, elastic hairbands, and bobby pins

Floor tape and spiking tape

Materials to create props and set for performances

Costuming for performances

Pencils, markers, paper, and other basic classroom needs

Therabands and tennis/lacrosse

Cleaning wipes/antibacterial cleaning supplies

Other consumable dance supplies
Drama and Theatre
Supplies to create costumes for one-time productions
Materials needed to create set pieces for performances (nails and screws for set constructions, paint, lumber, gaffer's tape, etc.)
Sheet music or script usage fees, royalty fees, license fees
Props for performances
Other consumable drama and theatre supplies
Music
Sheet music
Rented musical instruments
Tuning or maintenance for existing musical instruments
Reeds, bow rosin, cleaning cloths, or other consumable items related to musical instruments
License fees for use of music
Other expendable music supplies
Visual Arts
Drawing supplies (paper, sketch pads, pens, ink, charcoal, etc.)

Painting supplies (paint, paintbrushes)

Pencils, pens, pastels, oil pastels

Ink, beads, wood, leather, yarn, glue, or other items for mixed media or collage projects

Sponges, paper towels, or cleaning supplies

Supplies to create collaborative works that are not permanently installed in a building

Ceramic or sculpture supplies (clay, paint, glazes, glue)

Other consumable visual art supplies
Other consumable media art supplies
Questions about supply eligibility can be directed to our Arts Education Director.
Ineligible Supplies
Classroom Supply Grants cannot be used to pay for the following: permanently held equipment; capital improvements to schools (including updates to school-owned facilities); the purchase of musical instruments; theatrical drapes, lights, or related equipment; iPads, cameras, or other technology; microphones; music stands; easels; pottery wheels; kilns; screens for screen printing; and, other non-consumable materials.
This is not a complete list. Questions about supply eligibility can be directed to our Arts Education Director.
How to Apply
Step 1: If your school has not applied for an Oklahoma Arts Council grant within the past three years, you must complete our Grant System Login Request Form. The form provides us with important information about your school, which we will need before we can give you access to our grant system. Once you have access, you can log in and apply for a Classroom Supply Grant. If you have questions about logging in, please contact our grants office at (405) 521-2041 or grants@arts.ok.gov.
Step 2: Log in to our grants system and complete a Classroom Supply Grant application. Submit the application by the November 1 deadline.
Review Criteria
The Oklahoma Arts Council will consider the following when we review applications for Classroom Supply Grants:
A school's commitment to arts instruction. Schools must show how they are committed to ongoing high quality arts instruction by:

Indicating that they have at least one part-time arts instructor in the discipline for which they are asking for funding.

Explaining in the grant application how they will use supplies to present curriculum that meets state and/or national education standards in the discipline
A school's ability to create equitable access to arts education. The Oklahoma Arts Council will prioritize funding for schools that serve the following:
Rural counties (counties with fewer than 50,000 residents).

Under-resourced communities (schools where at least 70 percent of students are eligible for Title I assistance).

Culturally diverse communities (communities whose demographics vary from state averages)
Who to Contact for Help
For questions about this grant program, contact our Arts Education Director.