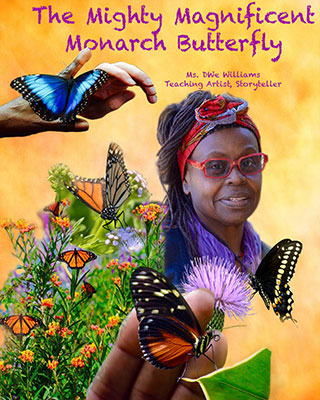 The Mighty Magnificent Monarch Butterfly
Discipline: Visual arts
Grade Levels: K-2
Number of sequential sessions in lesson plan: 3
Curriculum Summary
The Mighty Magnificent Monarch Butterfly is an interdisciplinary science, art and math curriculum designed for Kindergarten through 2nd grade with modifications thatcan be used for infants through senior citizens of all abilities. The concepts addressed will be line, shape, value, color, texture and space. Young students will identify primary colors and blend to create other colors as needed. Some colors will be "discovered." Students will also be introduced to mediums such as watercolor, crayons, colored pencils, markers, and gel crayons. The flower paintings of Georgia O'Keefe will also be explored.

Ms. DWe Williams is the master lead teaching artist for High Five Integrated Arts. The team specializes in developing creative arts/educational experiences for students of all ages and abilities. The arts and academic educational experience is "marbleized," allowing the artistic and academic to provide mutual support for each other while maintaining their own clear identity.

In this arts experience, students will design and complete symmetrical and asymmetrical butterflies and other pollinators while also learning about the migration of the monarch butterfly and the flower paintings of Georgia O'Keefe.
Materials Needed:
Markers
Colored pencils
Crayons
Gel crayons
Watercolor
Tempera paint
Pencil
Scissors
Butterfly templet printed on card stock paper
Card stock paper
Table covering
Paint brush
Paper towels
Water containers
Watercolor paper
Eraser
Ruler
Laminator (optional)
Lamination sheets (optional)
Oklahoma Academic Standards Addressed
VA.CP.1 - Vocabulary
VA.CP.2 – Identify common tools and materials used in art making
K.VA.CP.3 .1– Describe steps involved in creating persona work.
2.VA.CP.3.1 – Discuss and reflect with peers about choices made in creating art work.
1.VA.CP.2.2 – Practice the use of common tools and materials in art making.
Curriculum Sessions