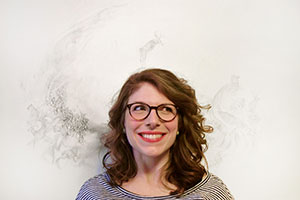 Experimental Drawing: Medium, Surface and Methods
Discipline: Visual Arts, 2D, Drawing
Grade Levels: High School, could easily be adapted for Middle school.
Number of sequential sessions in lesson plan: 6
Curriculum Summary
This curriculum explores drawing as a creative medium and encourages students to invent new ways to think about mediums and methods, beyond the more traditional definition of drawing. It strongly emphasizes considering the mediums and process as connected to conceptual goals; throughout the class, students work with a single theme of their choice, allowing them to focus and explore different ways a concept can be investigated artistically.  Students are also encouraged to embrace wrong turns, mistakes, and randomness as opportunities for innovation and creativity.  The class covers alternative mediums and surfaces, as well as indirect methods of drawing.
You will discuss artists who use non-traditional mediums, such as Vik Muniz and Gregory Euclide, and students work through a variety of in-class exercises inventing new ways to use mediums and surfaces, while investigating mark-making as the essential tool of the drawing practice. The last few sessions focus more on process, while reinforcing consideration of materials. To begin, we discuss the indirect drawing methods, allowing a more reactive or intuitive way of working; artists discussed include Max Ernst and Julie Mehretu. Students then experiment using decalcomania, the palimpsest, and creating instructions for classmates as ways to begin a drawing, reacting to the given marks and finding new images. Beyond drawing, this course is designed to encourage thoughtful creativity, with a focus on innovative problem solving.
Oklahoma Academic Standards Addressed
VA.CP.1, Learn and use vocabulary related to visual arts - All subdivisions except those pertaining to written elements.
VA.CP.2, Practice and refine techniques and skills related to visual arts - All subdivisions except those relating to legal elements of copyright etc.
VA.CP.3, Make creative choices and practice individual expression in application of concepts, language, techniques, and skills. - Primarily the skills under Advanced or Accomplished.
VA.P.1, Utilize a variety of ideas and subject matter in creation of original works of art. - especially II VA.P.1.1
VA.P.2. - Use various media, supplies, and tools in an appropriate and safe manner in the creation of original artworks. - Should be integrated as much as teacher or parent desires.
VA.P.3 - Demonstrate appropriate skill level in the application of knowledge, techniques, skills, and concepts through the creation of original artworks. - All levels included.
VA.P.4 - Revisiting and refining artwork to create a finished work of art.
VA.CHP.1 - Relate artistic ideas and works with societal, cultural, and historical context to deepen understanding - All could be included depending on student's ideas, most specifically VA.CHP.1.2, levels I and II
VA. ARCM.1, Perceive, analyze, interpret, and evaluate artistic work. All sublevels
Curriculum Sessions