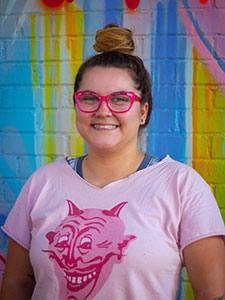 Feeling and Seeing with Abstract Painting
Discipline: Visual Arts
Grade Levels: 6-8
Number of sequential sessions in lesson plan: 3
Curriculum Summary
Students will dive into the field of abstract painting by studying and creating work inspired by influential abstract artists Yayoi Kusama, Sam Gilliam, and Hilma af Klint. By using mixed media painting techniques and thinking conceptually through the lens of feeling and seeing, students will discover the magic of color, repetition, form, line, and shape.
Materials Needed
model magic clay, Q-tips, acrylic paint, paint set up (water cup, brushes, plate for paint, paper towel), watercolors, watercolor paper, sketchbook or scrap paper, pencil, oil pastels or crayons, round coffee filters, markers, glue or tape
Oklahoma Academic Standards Addressed
Visual Arts Creative Process
Apply knowledge of elements of art and principles of design to the early stages of the creative process (VA CP 1) Students will use art terms that relate and apply to each artist's work each session, including color, repetition, form, line, and shape.
Demonstrate willingness to experiment and take risks in different art making processes (VA CP 2) Students will use various art making processes that require experimentation and self discovery to create the finished artwork.
Examine and Reflect (VA CP 3) Students will reflect after they finished the project and consider why they chose what they did, how it applies to the lesson's concepts, and determine their own opinion on their success.
Production
Experiment and develop skills in multiple art making techniques (VA P 1) Students will be using both sculptural and painting techniques to explore abstract painting.
Identify the use of the elements in their own work and the work of others (VA P 2) Students will reflect and identify elements in the work by the artists, their peers in group reflection, and their own work in self-reflection.
Understanding risk taking and openness in trying new ideas (VA P 3)
Cultural and Historical Perspectives
Analyze and explore different ways that art is used to represent cultural identity (VA CHP 1) Students are presented artwork by artists of various cultural and historical time periods.
Aesthetic Response & Critique Methodologies
Demonstrate respect for personal artwork and the artwork of others (ARCM 1)
Curriculum Sessions