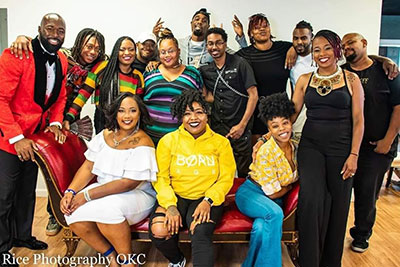 PC Curriculum
Discipline: Poetry, music, art
Grade Levels: High school
Number of sequential sessions in lesson plan: 6
Curriculum Summary
PC Curriculum is a strategically constructed workshop that focuses on the importance of creative thinking and creative expression. This curriculum is designed to focus on the development of critical, creative thinking from students when introduced to topics and exercises. Students will be shown various demonstrations of artistic expressions such as poetry, musical performances, book readings, painting, photography, and film production. Poetic City is comprised of several artists who work with groups of students based on the topic of their interest. To keep students engaged and interactive, lessons have been designed to encourage students to write and be willing to demonstrate and share with their peers and facilitators what they have learned from the art, music, media, and poetry portions of the class. Students will also be able to engage in discussions on how art affects social awareness and personal growth. Poetic City's goal is to use their gifts, talents, and knowledge to encourage creativity among students and to help young, aspiring artists who are looking to pursue opportunities within their creative field. Poetic City prioritizes the creation of a safe, creative, and comfortable space for all students.
Materials Needed: Tables, notebooks, pencils, floorspace, and talking environment
Oklahoma Academic Standards Addressed
D.PR.1: Students will develop and refine artistic techniques and work for presentation.
D.PR.2: Select, analyze, and interpret artistic work for presentation.
D.PR.3: Convey meaning through the presentation of artistic work
D.CR.1: Generate and conceptualize artistic ideas and work
D.CR.2: Organize and develop artistic and work
D.CR 3: Refine and complete artistic work
D.RE.1: Perceive and analyze artistic work
D.RE.2 Construct meaningful interpretations of artistic work
D.RE.3: Apply criteria to evaluate artistic work
D.CN.1: Synthesize and relate knowledge and personal experiences to make art.
D.CN.2: Relate artistic ideas and works with societal, cultural and historical context to deepen understanding.
Curriculum Sessions