ONEAL Tweet-up event happening June 8
The ONEAL Network (Oklahoma's New and Emerging Arts Leaders) is hosting the first ever ONEAL Tweet-up event on Friday, June 8 during Live on the Plaza. From 7 to 10 p.m. emerging arts leaders and young professionals are invited to performances by Tulsa Rock Quartet, Sunshine Hahn, Alegria Real, and Al Bostick. Participants can compete in Arts Jeopardy and participate in an interactive tweet-board while learning how to advocate for Oklahoma's arts industry.
The Tweet-up event is a partnership with Oklahomans for the Arts, the Oklahoma Arts Council, Lyric Theatre of Oklahoma and the Plaza District.
There is no cost to attend. Refreshments will be provided.
Follow the event on Twitter by searching the hashtag #vocal4OKarts.
For more information check out the Facebook event, or contact Molly O'Connor, director of outreach and community arts programs, at (405) 521-2025 or molly.oconnor@arts.ok.gov.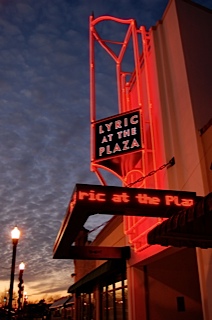 Lyric Theatre in Oklahoma City's Plaza District