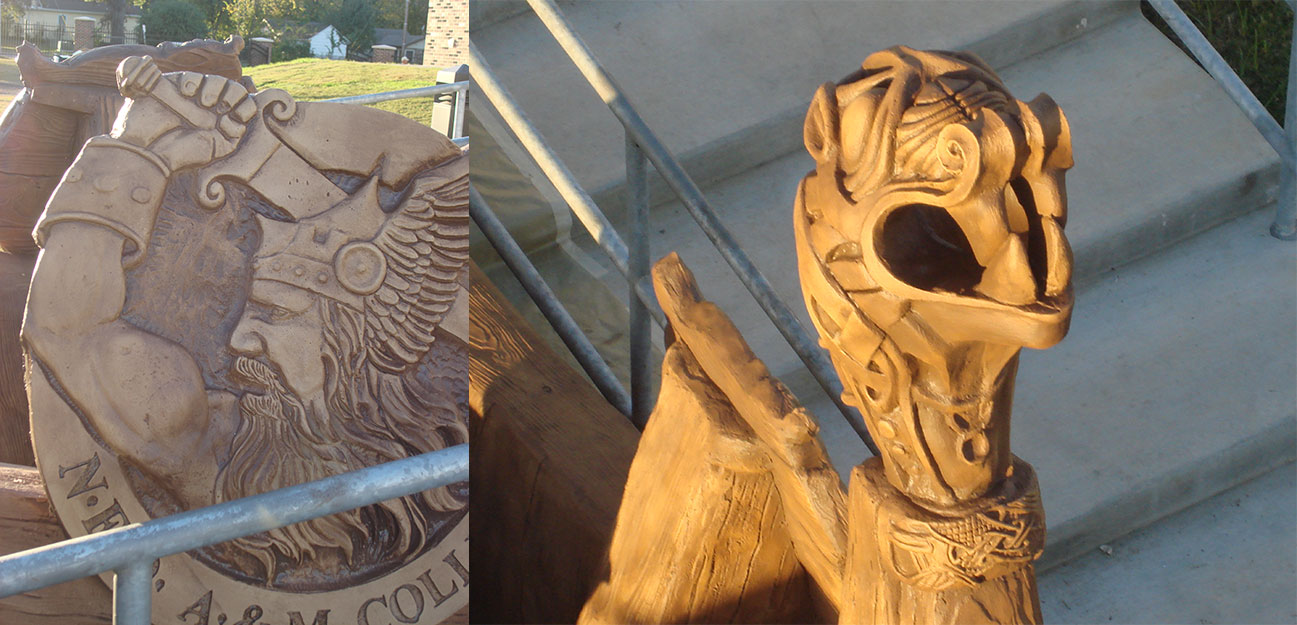 dyed formed Concrete over steel structure
Dimensions: life size
Project Agency: Northeastern Oklahoma A&M
Artwork Location: 200 I Street, NE
Miami, Oklahoma 74354

The Artwork
Concrete artist, Stan Pace, of Pace Decorative Solutions, Inc., designed and built an authrentic concrete sculpture of a Viking ship. Commissioned by Northeastern Oklahoma A&M University in Miami, Oklahoma, the work is currently installed at the Atlantic Training Facility.

Pace began by researching the varied Viking warship designs, both in print and online before starting on his own design. His final result most closely resembles the Oseberg Ship, discovered in 1903.

The ship was constructed with a welded steel and rebar frame to which galvanized wire lathe was secured. It was then covered with proprietary, high-strength, polymer fortified concrete mix. The specialized concrete was then textured to replicate wood and impressed with custom Viking designs. The ship's shields were made to incorporate the University's Norseman Logo as well. The original design logo was copied and then carved out by Pace and molded for a three-dimensional effect.

By far the most striking part of the design is the dragon head that sits atop the prow of the boat. This piece took the most man hours to complete. It was hand carved and then molded. The mold was then filled with concrete an cured. Once placed atop the prow it rises an impressive 12 feet in the air.

The Artist
Stanton Ross Pace is a sculptor and wood carver with experience in landscape and three dimensional design. He lives in Oklahoma with his family, which includes great danes, chickens, horses, and his best friend Bowser, the bear, (as well as his wife and grown children).