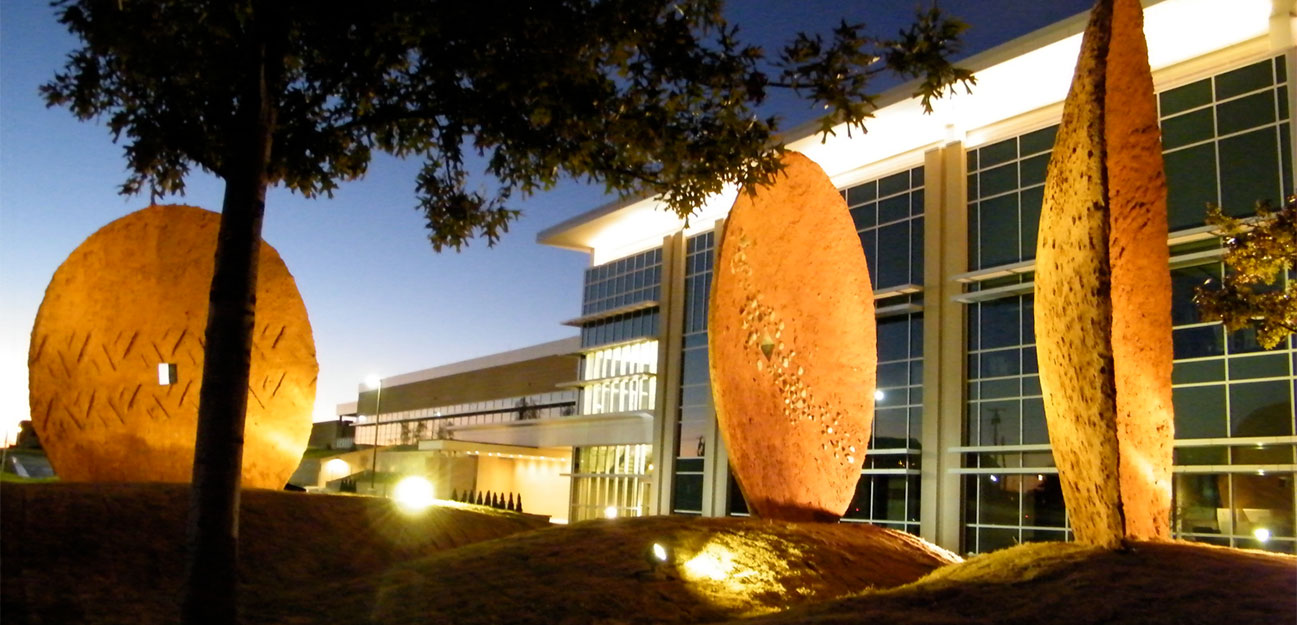 Earthcast concrete, stainless, earth berms, lights
Dimensions: apx. 3 times life size
Project Agency: Oklahoma Department of Finance
Artwork Location: 3115 North Lincoln Blvd
Oklahoma City, Oklahoma 73105

The Artwork
Disk, 2010 refers in name and concept to an evolving Oklahoma. The disks on the south side of the building speak to the relationship between human intention and the grain of the earth, the same relationship apparent in many photographs taken throughout the history of Oklahoma. One disk has six different shoe prints stamped across the "earth" of the disk, symbolizing man's relationship to the land. One disk has a tractor wheel texture, referencing the machinery and equipment used to work the land. The third has an arrangement of local river rocks, citing the relationship of water to the land. On the north side of the building is the stainless steel disk. This one symbolizes Oklahoma's future and the ever-growing role of craft, ingenuity, and technology.

Together the two corners express the ongoing evolution of our state and the relationship to the land. This connects to what was the Office of State Finance and is now part of OMES – that the agency housed in the building and the people that work there are continually evolving in order to better serve the State and their fellow Oklahomans.
The Artist
Thomas Sayre has designed and built public art projects all over the world and has been part of the design team for civic, educational, and museum buildings. He, along with architect Steve Schuster, is a founding principal of the multi-disciplinary design firm, Clearscapes , and has collaborated to produce lighting, furniture, terrazzo floors, and specialty surfaces.

Growing up in the shadow of Washington National Cathedral, Thomas' early art education, and his love and respect of natural materials, came from the stonecutters and the Cathedral. His education continued at St. Albans School, University of North Carolina, University of Michigan, and Cranbrook Academy of Art.

While occasionally producing "studio" pieces, most of his efforts are focused in the public arena. It is here where the idea of producing art intersects with the realities of life. The art will work only when disparate opinions come together through collaboration to form a coherent vision.