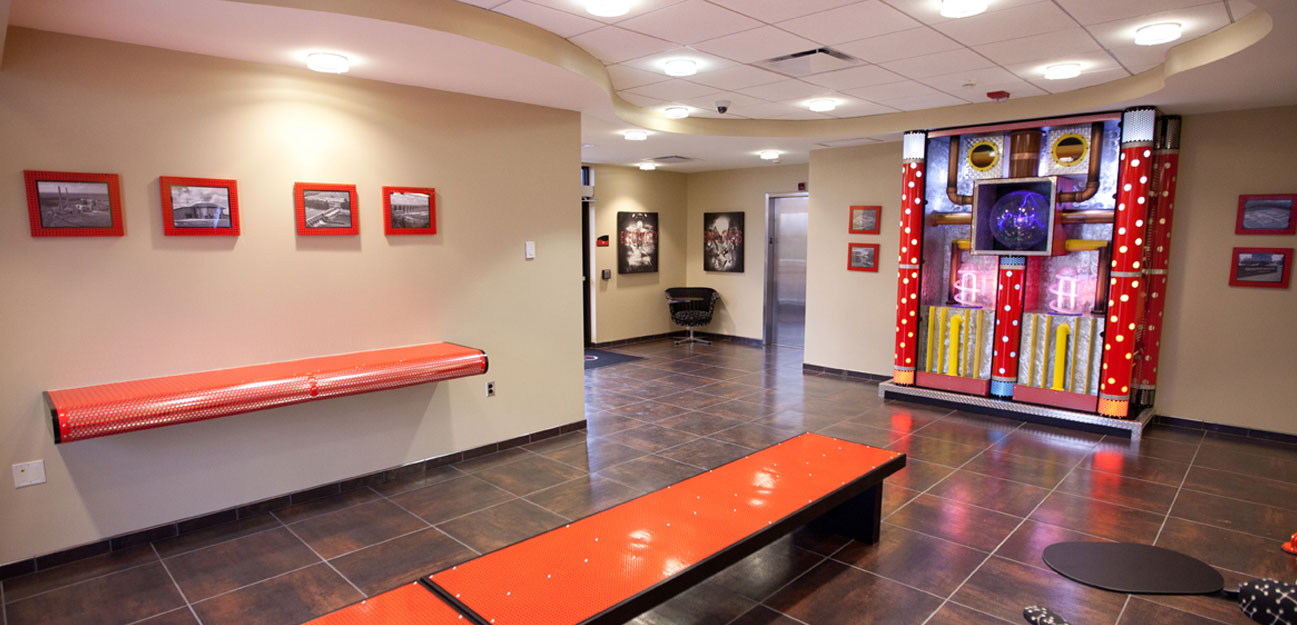 Powerwall
by Chuck Clowers, Cameron Eagle, JYD
Lighted sculpture and furniture pieces
Dimensions: Varied on multiple pieces
Project Agency: Grand River Dam Authority
Locust Grove, Oklahoma 30248

The Artwork
The title says it all. As you view this futuristic style sculpture, the viewer experiences the exiting concept of raw, captured electricity. The design incorporates the concepts of connectivity of power through the visual of faux plumbing pipes and a labyrinth of power connections leading to an eye-popping center piece that is a large pulsating plasma ball. This wooden framed, full wall shadow box sculpture is made of aluminum, plastics, wood and one or more controlled electrical plasma displays with applied graphics. The viewer will have the opportunity to view one of nature's phenomenon in this design that gives the impression of the magic the Wizard of Oz hid behind the curtain.
The box is approx. 7' wide from floor to ceiling; the depth is about 24".
The Artist
JYD Team (aka: JunkYard Daddies) is the creative design duo of Cameron Eagle and Chuck Clowers. We are best described as an eclectic design firm that is dedicated to the fun, funky and functional. One of the core design elements in several of our projects is the use of reclamation or recycled materials. This ensures each piece or environment we create is unique and not found in a catalog for your competitor to purchase.

We have had 20+ years in each of our respective industries as independent business owners. Eagle has an extensive background in illustration and graphic design working with national blue chip corporations and agencies. Clowers is a master carpenter with expertise in multi-store retail installation as well as high-end home cabinetry and furniture design.