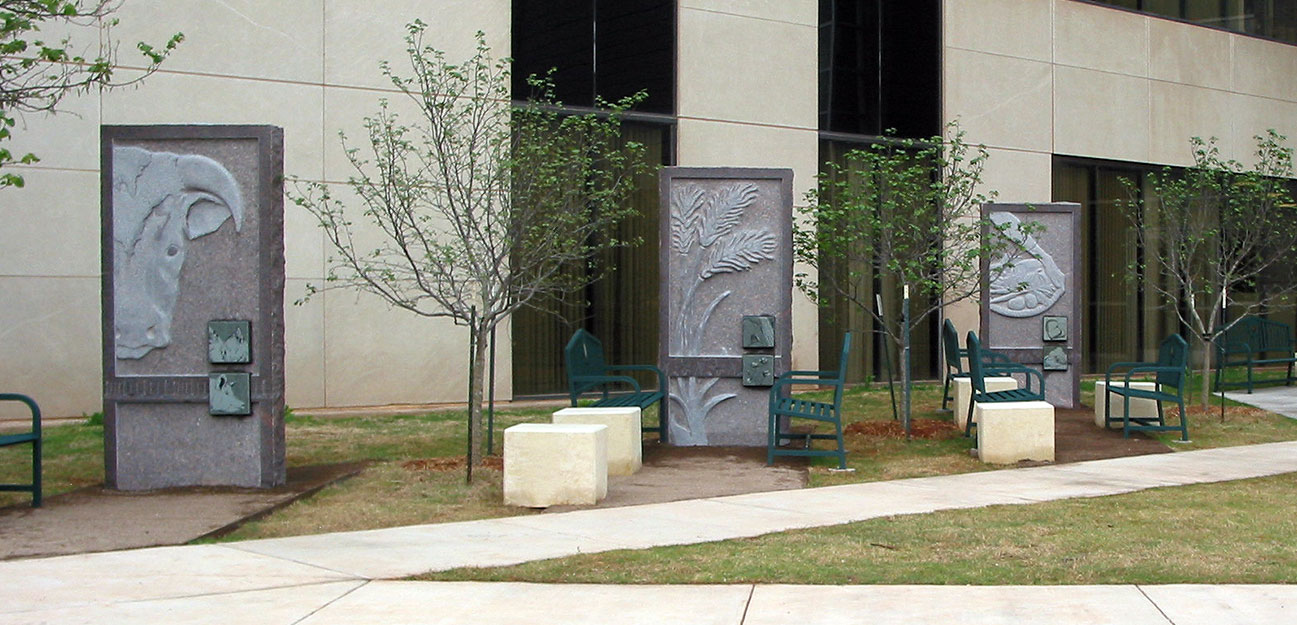 Homestead to Harvest
by Andy Dufford
Granite and Metal sculptures
Project Agency: Oklahoma Department of Agriculture
Artwork Location: 2800 N Lincoln Blvd
Oklahoma City, Oklahoma 73015

The Artwork
Inspired by Oklahoma's early agricultural history and the use of early plows, the work consists of three "crop rows" that serve as seating areas outside the new lab. These rows echo the geometry of glass and limestone banding on the building. A granite relief carving punctuates the end of each row and a fourth carving sits on the entry plaza. The art's theme is agriculture, from the homestead to harvest. Imagery includes livestock, crops and consumers as it follows the path of products from the farmer to the market and crops from the planting to harvest.

Commissioned by the Oklahoma Department of Agriculture, Food and Forestry.

The Artist
Andy Dufford, Lead Artist

The creation of artful spaces is my life's passion.

As a young man, I apprenticed with a painter and completed undergraduate work in design and community development. Traveling through Europe after university was a revelation. Walking through cities built with the skill of artists and artesanos expanded my imagination and creating beautiful places became my primary focus. That journey was the beginning of a much longer exploration that continues today.

Over the last 16 years I have developed a value system that guides our work. These core values are community, creativity, timelessness, and craft.