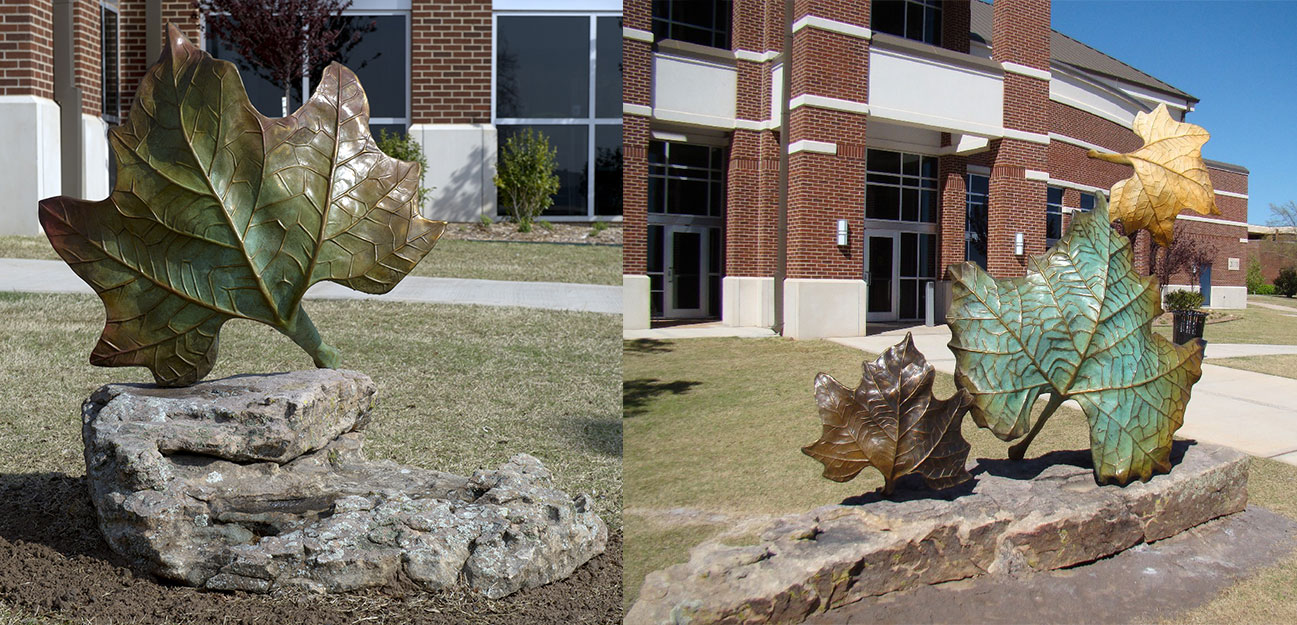 Four Seasons
by Kevin Box
Bronze, Stone--2 pieces
Dimensions: Approx: 9' tall x 16' wide x 4' deep
Project Agency: University of Central Oklahoma
Artwork Location: 100 N University Dr
Edmond , Oklahoma 73034

The Artwork
Commissioned by the University of Central Oklahoma's Transformative Learning Center.
"Four Seasons" depicts four leaves inspired by the sycamore leaf. The leaves are cast in bronze at various, larger than life scale and patina'd with four color scheemes to remind the viewer of the four seasons: Spring, Summer, Fall and Winter.
The Artist
Kevin Box grew up beneath "the tree that escaped the crowded forest," referring to Frank Lloyd Wright's only skyscraper in Bartlesville, Oklahoma. There he developed an early passion for creativity and realizing his "Visions" through art on paper.

A growing interest in art and design led Box to apprentice at his Uncles graphic firm in Atlanta, Georgia. He graduated High School with a diploma in one hand and a technical degree in Graphic Arts Printmaking in the other. Gaining valuable experience, it also brought him to the realization that most graphic design for print and packaging ended up as landfill trash, the wrong kind of paper.

Refocusing on Fine Art, he spent three years on scholarship studying Art and Art History at the School of Visual Arts in Savannah, Georgia, later finishing at their prestigious New York campus with a BFA in fine art printmaking and sculpture. An Art History grant took him to Greece for three weeks. Providing him the opportunity to see some of the great antiquities of the world first hand, the experience forever changed him. "I discovered the durability of a conversation continued throughout the history of art and I wanted to be a part of it."

Box pursued this new passion through sculpture, focusing on art in public places because in his mind, "printmaking didn't fit the challenge." In 1999 he began his career in the foundry. Over the next three years he labored under a self imposed apprenticeship to become proficient in metal casting. By working within the foundry industry for other artists, he attained an exhaustive knowledge of the casting techniques and fabricating process necessary to create monumental works of art. The artists he worked with mentored him through the business of art as well as his exploration of style. Eventually his dedication to the process helped manage and build one of the largest fine art foundries in Texas and Box used that opportunity to develop his own work. "The best thing I ever did was ask for casting rights in the foundry rather than a raise in pay." That decision led him directly to the freedom of experimentation. Ignited with inspiration and a treasure of paper found in the warehouse of an old print shop the foundry was renting, he went to work developing the unique process of capturing the delicate nature of paper in museum quality bronze. "It took two years for me to perfect the process and it continues to evolve today."

Right out of the gate Box's work gained recognition from other Artists and Collectors alike. In 2004 he was elected as the youngest member of the National Sculptors Guild and was recognized by Southwest Art Magazine as one of the top 21 artists under 31 in the Southwest. He has since won numerous awards throughout the Southwest and continues to focus his passion on large public projects. In a short time he has placed numerous works of art in public, private and corporate collections within the US and abroad. Box's knowledge of the casting process, combined with an innovative vision like not other, defines his style and a sensibility of work that will take its place within 21st Century Art History. He currently lives and continues to develop his work with his wife Jennifer in Santa Fe, New Mexico.