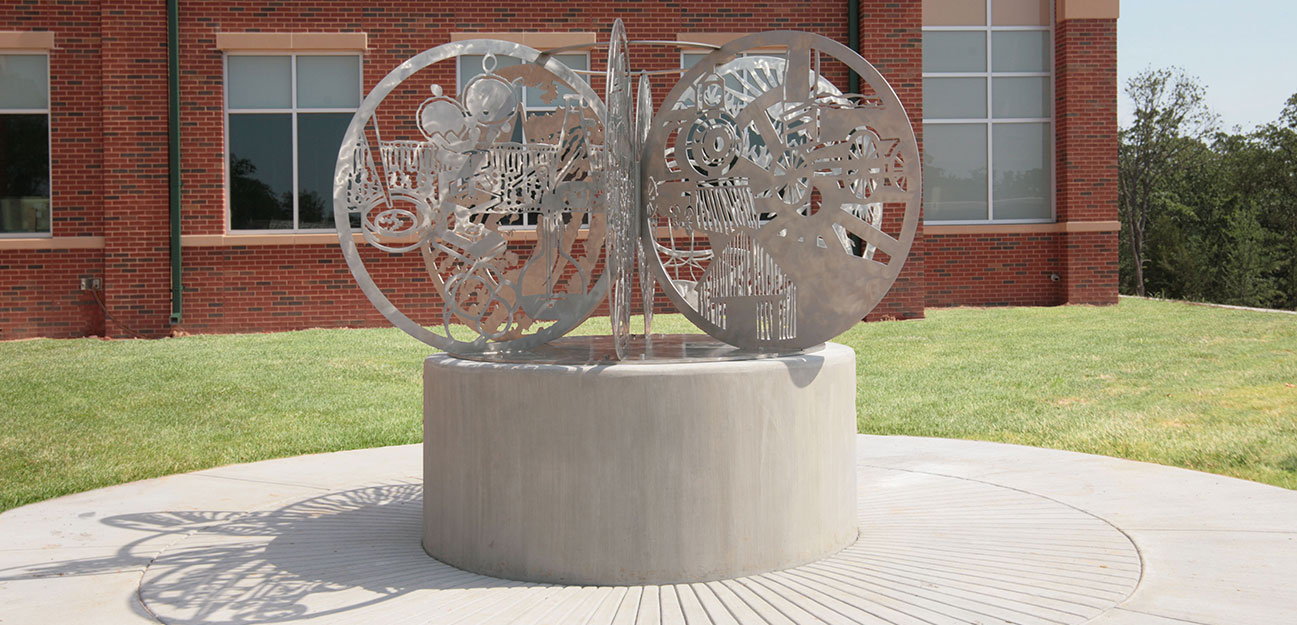 Cyclic Synergy
by March Scott
stainless steel, concrete
Dimensions: stainless steel, concrete
Project Agency: Oklahoma State University and Oklahoma Agriculture Experimentation Station
Artwork Location: 3210 Sam Noble Parkway
Ardmore, Oklahoma 73401

The Artwork
This sculpture traces the history of agricultural experimentation at the Oklahoma State University and honors the unlimited potential of this work. Sun: The center of the solar system. An energy source that is an absolute requirement for habitability of our planet. Egyptian, Indo-European and Meso-American civilizations, who recognized their dependence upon the sun for life and sustenance, developed solar religions in order to worship the sun.
Seasons: The seasons are marked by the solstices and equinoxes, and marking seasons has always been important for growing food. For thousands of years, observing the seasons and how they influenced plants and animals was part of early agriculture. This panel is dedicated to Native Americans.
Settlers: When settlers came to Oklahoma, they brought not only their spirit but seeds, animals and the knowledge that had been passed onto them about agriculture. At this time, there were many changes globally that changed agriculture; including the railroad, powered farm tools and refrigeration.
Study: The land-grant mission created State Colleges and Universities which elevated agriculture to a study and discipline that funded research and experimentation, maintained records and gathered knowledge. Oklahoma State University is now recognized as a leader in agricultural research.
Science: The development of new scientific tools allowed scientists to look at plants and animals from a cellular perspective. The pace of experimentation and discovery increased as did the results of production and yields. Without science, food and forage production would be woefully inadequate.
Synthesis: Pulling the knowledge of the past together and moving toward the future, agriculture is not just about food production but about energy, natural resources, the environment and more. Experiments and research influence not only the local agricultural community but spread to impact the world.

The Artist
Marsh Scott grew up in several cities in the east, and received a BS in Art Education from Penn State before she moved to the west coast and ultimately Laguna Beach. She received her MA in Art from CSULB, and took architecture classes at UCI. After ten years of teaching high school and community college art and also teaching at a private art program, she became a full time studio artist.

Scott's work has always involved textures and layers as a way to physically indicate the passage of time. Handwriting, with and without words, is expressive, individual. Bringing in the artist's hand by drawing, painting or carving line conveys by gesture symbols and concepts.

Early sculptural work in cast paper evolved into large multiple piece installations. Ink paintings reduced the line and gesture to their minimum. Paintings included handmade paper for texture. Always experimenting with a variety of mediums; metal, especially stainless steel, became the choice for large public commissions and installations throughout the country. Drawing in CAD and having plates laser or water jet cut allows the surface to at once be sculpture and drawing. Shadows become an additional, changing layer. A series of encaustic paintings and some sculptures became more and more minimal and neutral with some focusing on sweeping gestural marks and others, repetitive texture. Stone became a new medium to explore with installations of multiple abstract forms carved with line.

Scott currently lives and creates in Dana Point, California. Actively involved in the local art's community, she has served on the Board and then as president of the renowned Sawdust Art Festival. In 2010 she received the "Artist of the Year" award in Laguna Beach, California.