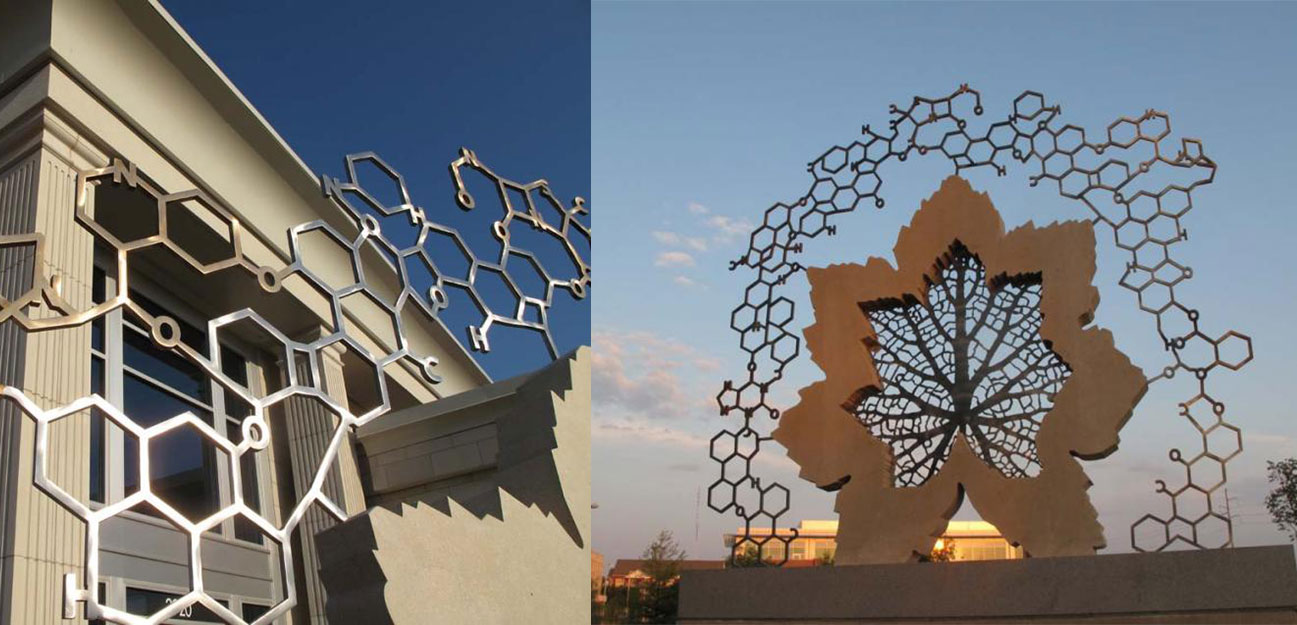 Roots of Innovation
by Joshua Weiner
Stone and stainless steel
Dimensions: 8'x8'x6"
Project Agency: Oklahoma State Board of Pharmacy
Artwork Location: 2920 N Lincoln Blvd
Oklahoma City, Oklahoma 73015

The Artwork
The history of Pharmacy has its roots in medicinal plants. Designing a piece that expresses the history of pharmacology has to illustrate a connection to nature. I am interested in articulating how information comes from our environment. This sculpture is in concert with my ambitions as an artist to cultivate a positive connection with nature.

Chemical structures emerging from a leaf connect the viewer to the history of Pharmacy by showing how we have discovered medicine in plants. Many of our most important drugs have come from nature. I worked with representatives of the Board of Pharmacy to show the actual chemical structure of drugs that they consider the most significant. The leaf is Goldenseal and the molecules around it are 5 of the most significant drugs derived from nature; Aspirin, Quinine, Penicillin, Morphine, and Theophylline.

After studying the site and walking around this area, I was drawn to the shape of the leaf. The natural shape beautifully contrasts this robust linear building, and by making it in stone and stainless steel, the permanence and stature of the building is maintained. This design was created to complement the stately architecture of the entire area. I wanted to create a piece that would be a valuable addition to the Oklahoma's Public Art collection so I generated a piece that is durable and conceptually timeless. This piece is virtually maintenance free and can be easily restored from graffiti.

I have been creating artwork that is evocative of sustainability. I do this by integrating living organisms with forms that convey civilization. The intent of this series is to elevate the importance of finding balance with nature. I see this project as a perfect example of what observing nature has done to improve our quality of life. Observation tends to lead to preservation.

The Artist
Joshua was born into a stone sculpting community, as his mother founded the Marble Institute of Colorado. He also studied at Fort Lewis College, and his dedication to sculpting earned him an apprenticeship in Japan with Kazutaka Uchida.

Joshua is an instructor at the Art Students League in Denver, CO and has taught workshops at the Denver Art Museum and The Colorado Academy. In 2009, he completed a residency at PlatteForum in Denver, it being the 2006 recipient of the Mayor's Award for Excellence in the Arts & the 2011 National Arts and Humanities Youth Program Award. During this residency, Joshua created art from his living series and worked with at risk/underserved youth for five hours a week, teaching them about making art and living positively.

Joshua makes large scale public and private sculptures. He has been on design teams for public spaces and juried shows. Joshua has created in stone, steel, bronze, water, earth, plants, concrete, ice, chocolate, sand, and asphalt. He seeks to create landmarks with his time. Joshua expresses "I want to be involved with creating things that will be used to give an image to a place and be a beacon for our time". Joshua's ability to convey a concept effectively rests on his strong sense of design and precise execution.

Joshua continues to follow his dreams of creating art in his Denver studio. Joshua's public sculptures can be found in Florida, Washington, Oregon, and Colorado- Durango, Wheat Ridge, Broomfield, Castle Rock, Littleton, Denver, and Longmont, Colorado. He is currently working on public commissions for San Luis Obispo, CA; Oklahoma City, OK; and Denver, Littleton, and Boulder, CO.