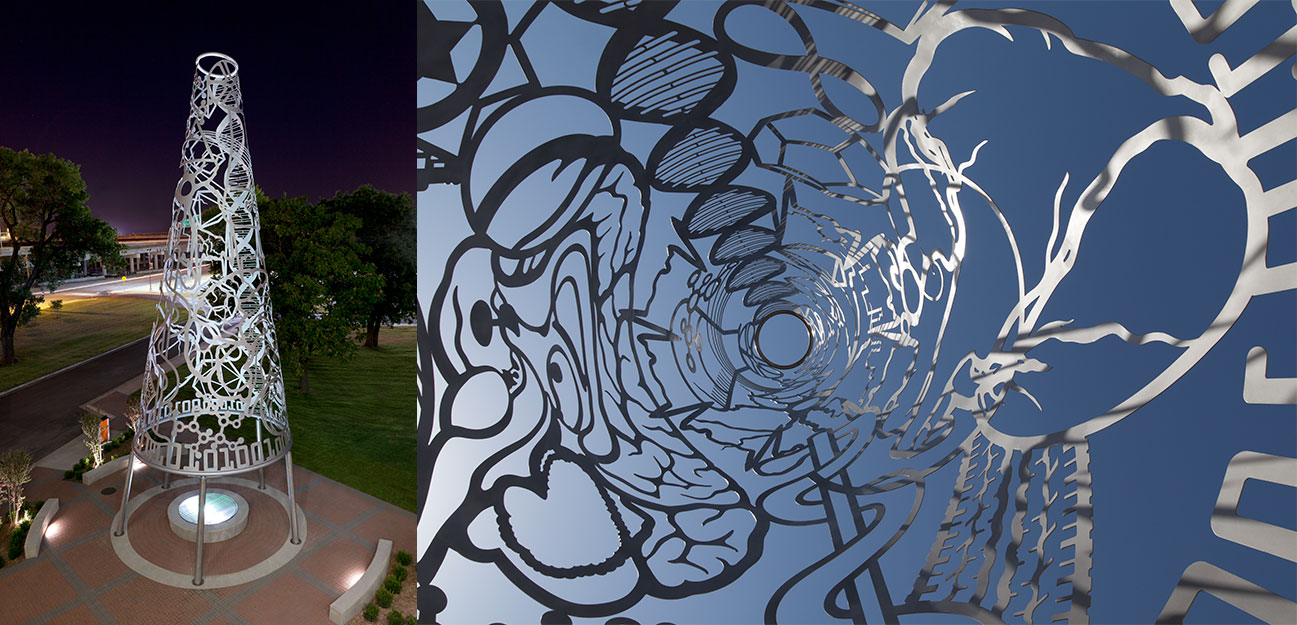 stainless steel, steel, epoxy paint, LEDs
Dimensions: 53' high 4' 9" diameter at top, 21' diameter at bottom
Project Agency: Oklahoma State University Center for Health Sciences
Artwork Location: 1111 W 17th St
Tulsa, Oklahoma 74107

The Artwork
The setting is the plaza between a college specializing in medicine and forensics education and a city police forensics laboratory.
The sculpture serves both as an outdoor room and as a signifier for the varieties of knowledge pursued within the adjacent buildings. Graphic references to forensics, medicine, and pedagogy comprise the walls of the epic conical form. The allusions are alternately clear and arcane, epic and subtle: a human heart and brain are anchored by a long chain of DNA; a neuron intermingles with an EKG, which in turn is echoed by the Tulsa skyline; Platonic solids tumble amongst molecules for caffeine, alcohol and glucose.
The central location of the sculpture with its copious seating options encourages conviviality, while its scale and graceful asymmetrical proportions inspire contemplation. Viewers looking up from beneath the sculpture may draw parallels between our interest in the expansive mysteries of the universe and our quest for concrete knowledge here on earth.

The Artist
Ralph Helmick obtained a BA in American Studies from the University of Michigan, attended the Skowhegan School of Painting and Sculpture in Maine, and received an MFA in Sculpture from the School of the Museum of Fine Arts, Boston and Tufts University, Medford, MA. Early in his career Helmick exhibited his work in several solo shows in Boston and New York, as well as in group exhibitions in museums throughout New England.

His many honors include a General Services Administration National Design Award, a National Endowment for the Arts / New England Foundation for the Arts Fellowship, inclusion in the Public Art Network's National Year in Review on eight different occasions, and numerous commendations for his public artwork.