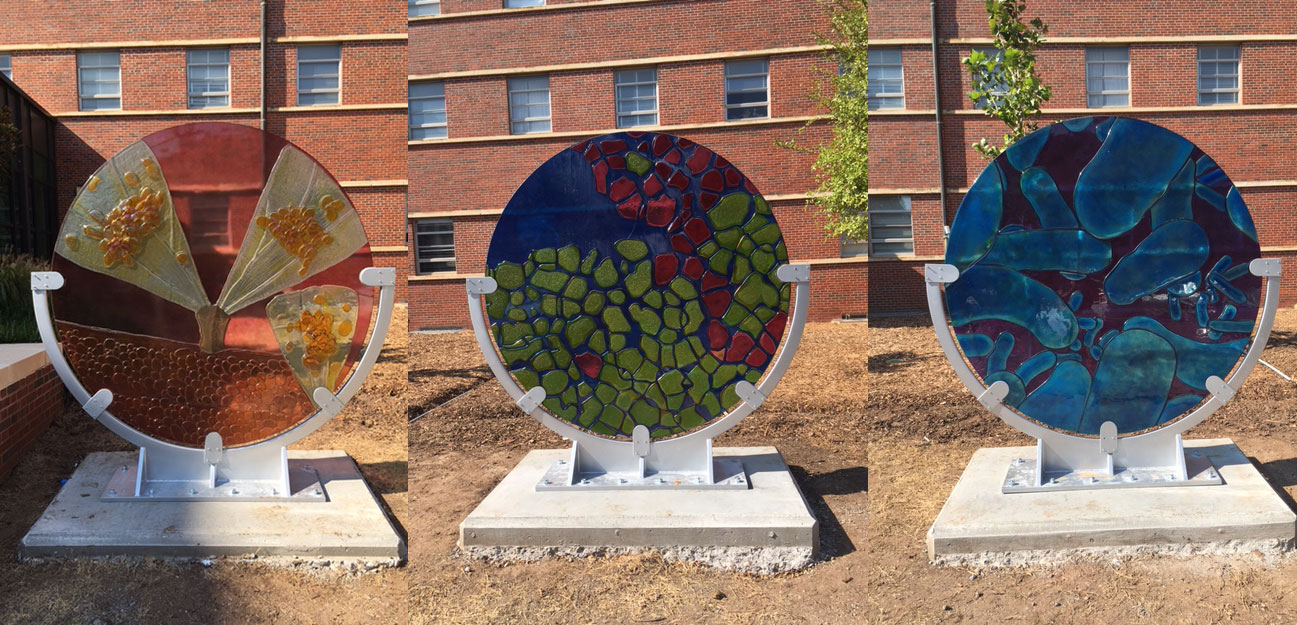 Untitled
by Gordon Huether
Glass
Dimensions: 6'
10/24/2016
Project Agency: Oklahoma State University and Oklahoma Agriculture Experimentation Station
Artwork Location: N Monroe St
Stillwater, Oklahoma 74074

The Artwork
These six-foot diameter glass discs have been exclusively handcrafted for the Henry Bellmon Research Center at Oklahoma State University. The fused glass was safety-laminated to half-inch-thick, tempered plate glass. This glass is extremely strong and is similar to bulletproof glass. The medallions were mounted within stainless steel armatures.

Each medallion's design is inspired by the six respective categories of study housed within the Research Center. They are illuminated at night, creating beacons of light and making the artwork visually compelling and inspiring in the evening, as it will be during the day.

The Henry Bellmon Research Center currently houses 6 categories of study – Synthetic Chemistry, Biodiversity, Biophysics, Photonics, Bioforensics and Biogeophysics. For each of these six areas we worked with the University to obtain multiple microscopic images for each area of study. We chose one of each, digitally manipulated the color and transcribed that image from a microcosm to macrocosm. This transcription from micro to macro was manifested into 6-foot diameter, art glass disks with glass fusing, enameling and lamination. The big idea was making the often unseen beauty of science visible through the eye of an artist.

Understanding that the architecture is traditional Georgian, Huether chose a classical, traditional shape, the circle. The circle also appears in the bronze railings of the building. Using this shape as a repetitive form is a strong nod to the traditional architecture. Having contemporary art glass within the circle refers to the highly technical, forward-looking research conducted inside the facility.

The Artist
Gordon Huether was born in Rochester, NY in 1959, to German immigrant parents. Having dual citizenship in Germany and the U.S., Huether has spent much time traveling between both countries. Huether learned art composition and appreciation at an early age from his father. In the course of his initial artistic explorations, Huether was resolved to create a lasting impact on the world around him through the creation of large-scale works of art. He took a deliberate step towards this goal in 1987 when Huether founded his studio in Napa, California.

In 1989 Huether was awarded his first public art commission for the University of Alaska Geophysical Institute. Given the opportunity to collaborate with a building design and construction team, allowed Gordon to realize what he envisioned, and proved to be a significant step for him. His careful consideration of the artwork or installation in context to the space and its users has led to many major public art awards around the globe.

Projects have included art installations for private corporations, airports, transportation centers, parking garages, hotels, universities, hospitals, recreation centers, civic buildings, libraries, and museums. During his frequent visits to Germany in the early 1990s, Huether's aesthetic vision took an important turn, which was influenced by Professor Johannes Schreiter. While the medium of glass had initially inspired Huether's material impulses, Schreiter's work inspired him to unlock and express vital ideas and humanistic passion in his own work. Huether began to concentrate on the intellectual and emotional message one can deliver through an artistic creation. His work became about communicating a story, not just creating objects of beauty.

In recent years, Gordon has begun exploring different media to challenge both the concept and direction he has taken in the creation of his smaller-scale fine artworks. This personal and professional exploration has given insight to the myriad of ways he can express the beauty he sees. Using the seductive properties of richly saturated color, a wide array of natural and artificial light sources, and diverse texture, found materials and quirky, sometimes unsettling imagery, his work offers viewers a complex experience.

His experience in the realm of large-scale artwork generated the confidence to fashion fine art pieces with very personal content. Huether started experimenting with salvaged materials, found objects and in contrast to these elements, items of polished and impeccable nature. While his core skills are in glass design, Huether also has extensive experience in working with many other media including steel, repurposing salvaged materials, resins and composite materials.

Until this day, much of his work is inspired by the effects nature has on man-made materials such as the rusty patterns present in deteriorating metal. These materials, translated into works of art, serve as a reminder of the temporal character of man's achievements and the awe-inspiring forces of nature.

Huether's work has been exhibited at museums and galleries, and collected across the United States, in Los Angeles, San Francisco, Chicago and New York. He has received more than 60 public art commissions and more than 150 private commissions.