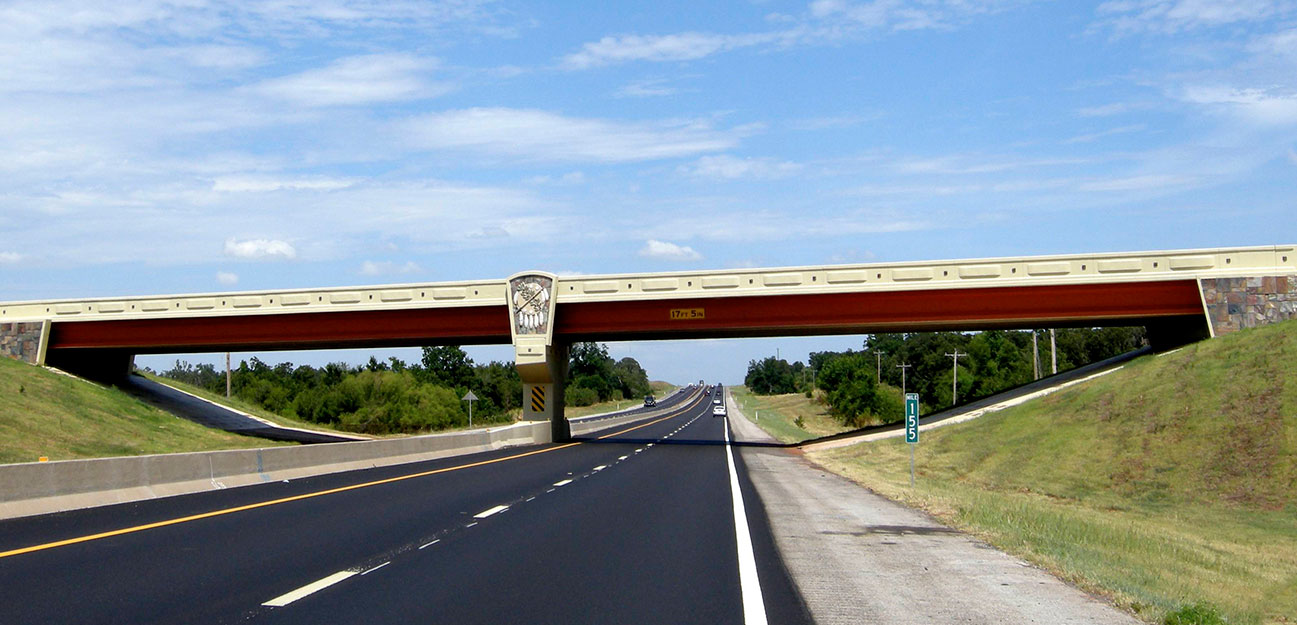 OTA Turner Turnpike SH 102
by Steven Weitzman
Concrete form liners and paint
Project Agency: Oklahoma Turnpike Authority
Artwork Location: Bridge overpass near Wellston exit
Oklahoma
The Artwork
Working with its project partners, the Chickasaw Nation, CP&Y, Inc., Creative Design Resolutions, Inc., and Creative Form Liners, Inc., ODOT was able to oversee the production of this new bridge, a gateway leading to and from the Winstar Casino.

Steven Weitzman created a new bridge design that marries ancient Chickasaw nature symbolism with imagery from the Oklahoma landscape, e.g. the tall grass concrete form liner pattern featured on the bridge's parapet, approach, and wing walls.


The Artist
Founded in 1998, Creative Form Liners, Inc. (CFL) provides superior elastomeric rubber and fiberglass form liners to Departments of Transportation, engineering firms, architects, landscape architects, and concrete contractors across the country for their highway, bridge and urban environment projects. CFL brings your decorative architectural concrete projects to life with exquisitely custom detailed designs or standard patterns such as Fractured Fin and Ashlar Stone. Our Specialty, Custom and Exclusive Homeland Series form liners can be seen in fifteen states as well as Washington, D.C.
Design

CFL has the experience and expertise to design any aspect of your infrastructure project, including supplying unique and affordable form liners. Our in-house designers produce accurate drive through computer models, specifications, and plan sheets to be incorporated into typical construction documents. CFL works alongside DOTs, engineers, architects, and developers to design, fabricate, and deliver custom or standard form liners to projects across the country in an efficient and cost effective manner.
Form Liners

Our elastomeric rubber and fiberglass form liners are known throughout the transportation industry for their high relief and intricate detail. Even with subtle detailing and vertical pouring, casts pulled from our form liners surpass industry norms. If you compare the details in our form liner portfolio section, you will immediately see the incredible detail we put into our products.