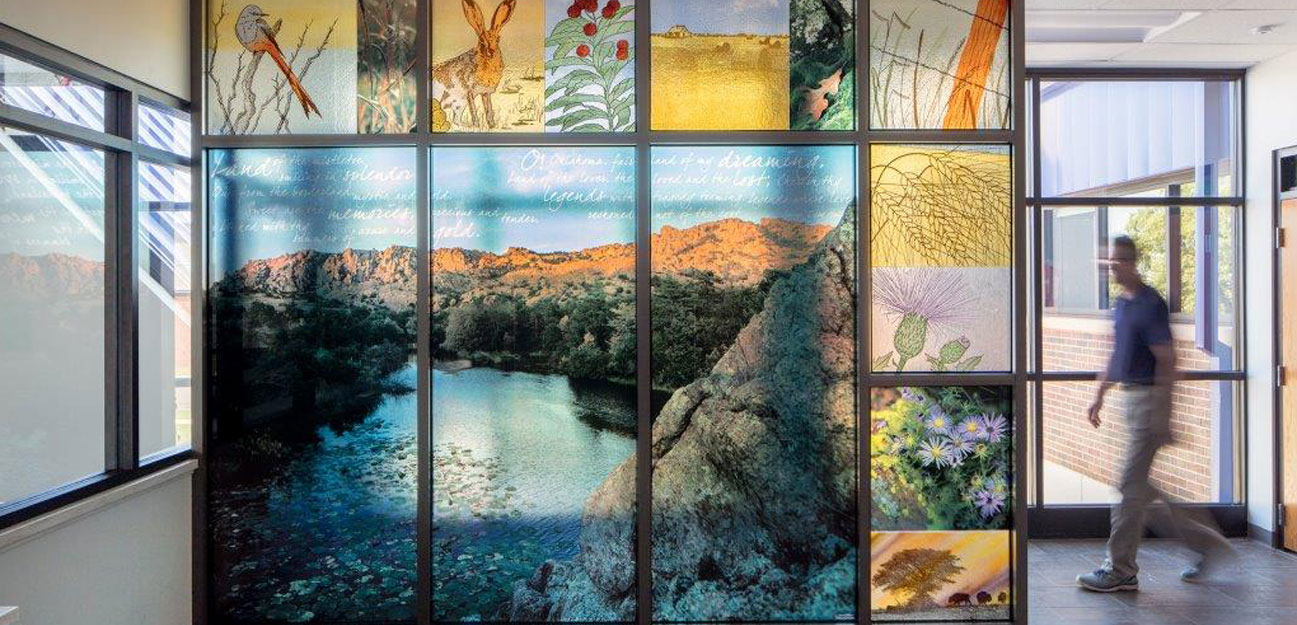 Glass
Dimensions: Apx 10x12
Project Agency: Oklahoma Department of Veteran's Affairs
Oklahoma
The Artwork
"Homeland," a work of public art honoring Oklahoma veterans, was unveiled October 27, 2017, at the newly refurbished Oklahoma Department of Veterans Affairs (ODVA) office space in Oklahoma City. The commissioning of the piece and the oversight of its installation was managed by the Oklahoma Arts Council.

Exploring how the concept of "home" encompasses our roots, our history, and all that we fight to protect, glass artist Judith Gorsuch Collins and photographer Heather Marie Collins traveled across Oklahoma to gain inspiration for the silkscreened cast glass work, Homeland. The elements and color palette in the finished work were drawn from the artists' exploration of areas such as the Tall Grass Prairie and the Wichita Mountains. Exhibited in the piece is the natural wonder of Oklahoma, its beauty and its juxtaposition of the ancient and the seasonal. Incorporated is a poem by noted Oklahoman George Riley Hall (1865-1944) titled Land of My Dreaming, which speaks to the link between memory and home. The artists' hope is that visitors will take pride in the beauty of their home as interpreted in the piece, understanding that whether one is present or far away, the notion of home is precious and unique.

The piece was created as part of the Oklahoma Art in Public Places (OAPP) program, which requires 1.5 percent of a State of Oklahoma capital project budget be invested in public art for the benefit of the community. In 2015, Oklahoma Governor Mary Fallin signed legislation placing the OAPP program under the Oklahoma Arts Council.
The Artist
A glass artist for thirty-nine years, J. Gorsuch Collins (Judy) has worked on public and private commissions throughout the United States, as well as internationally. Using techniques such as casting, glass applique, and more traditional methods allows her to design two- and three- dimensional pieces for a wide variety of venues and to meet the challenges of an enormous range of installation requirements. Judy's work is often inspired by available light, the architecture of the building, the mission of a particular client, or the desire to simply create a unique work.