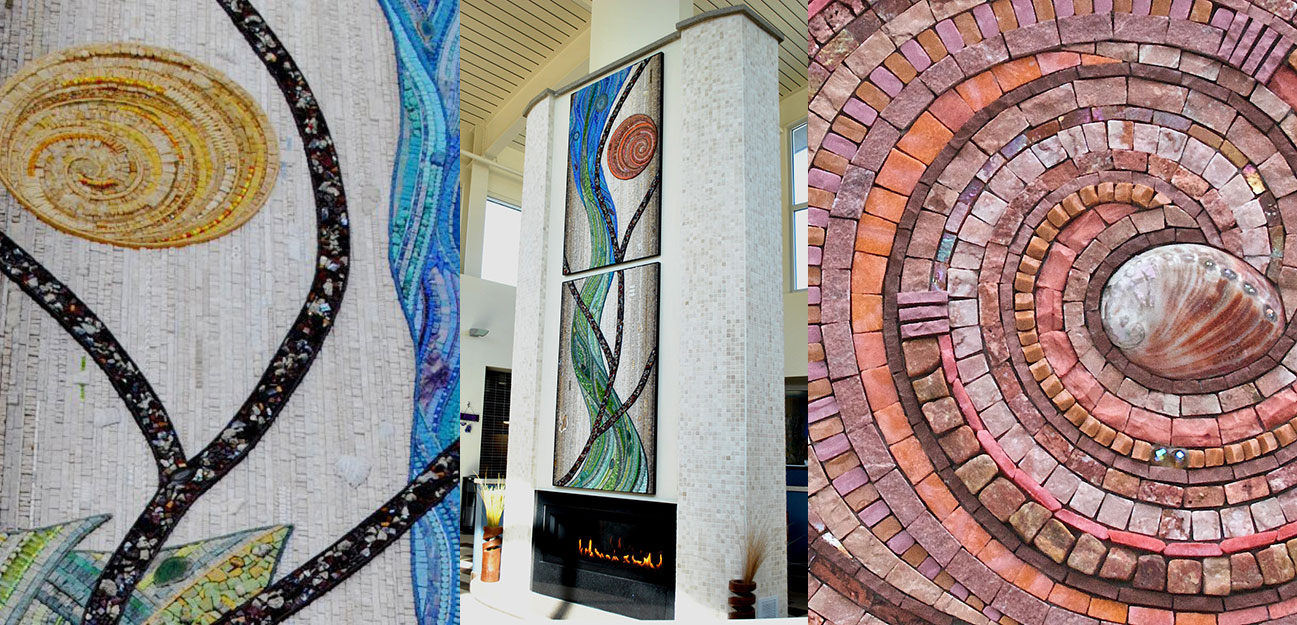 Daytime/Dreamtime
by Jacqueline Iskander
Marble, smalti, porcelain, mosaic gold, glass, minerals, stone
Dimensions: Two diptychs. Each diptych 106" h x 36" w | 264 cm x 91 cm
Project Agency: Northeastern Oklahoma A&M
Artwork Location: 200 I Street, NE
Miami, Oklahoma 74354

The Artwork
These works honor the history of NEO A&M College, as well as the city of Miami and its region of Northeastern Oklahoma. Greens represent the Earth and agriculture. The sky and also the river and lake system are the blues. The branch-like elements represent mineral veins, and also speak to strength, growth, and roots to our past, according to Native American tree symbolism. Daytime reflects a mind of order (separateness) and analysis; Dreamtime invites connection and contemplation.
The Artist
I've been working in mosaic since 1996. A hobby, with a focus on home decor, grew into an exploration of artistic self-expression. While self-taught in the early years, in 2006 I began traveling for study with mosaic masters and teachers, both national and international. Although I have worked with many materials, both traditional and contemporary, I have an affinity for natural stone and minerals, and traditional mosaic glass, known as smalti, and gold.

My work is primarily abstract and material-driven more than design-driven. I am attracted to the freedom and spontaneity that abstract art allows me. I draw as little as possible so that my process is not overly subject to a design conceived prior to what I consider to be my primary creative activity, which is the physical handling of materials and building of the mosaic. It usually takes months for me to create a mosaic, and working abstractly lets me be inspired by the materials and open to the energies and conditions in the present moment. In this way, I create a work that is reflective of a period of time — that is a testament to time lived during its creation.

While my execution technique is grounded in traditional methods and tools, my work is contemporary and exploratory. I enjoy working in series and have several that have been ongoing for years. However, I most often find an impulse to do something out-of-series, with no intention of doing anything like it again.