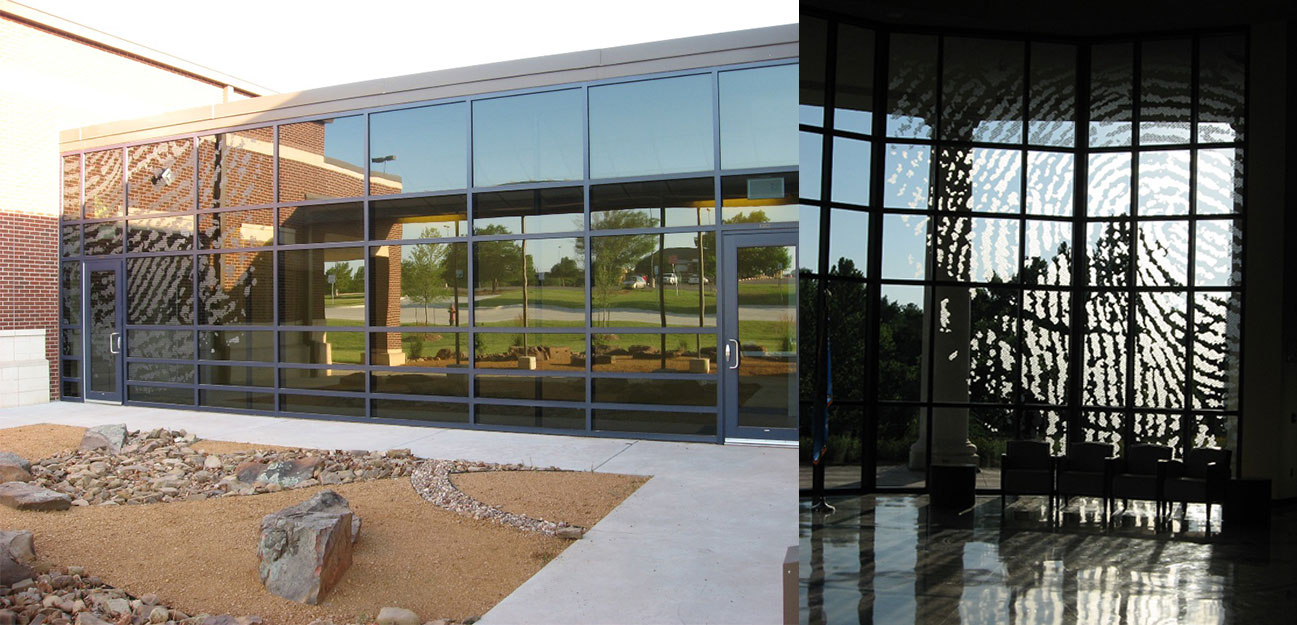 Tri-Partial, Snips, Bi-Partial, Untitled (Finger Print)
by Alan Saucier
Etched Glass and lighted benches
Dimensions: see description
Project Agency: University of Central Oklahoma
Artwork Location: 100 North University Drive
Edmond, Oklahoma 73034

The Artwork
In 2009 the University of Central Oklahoma built a world-class institute dedicated to quality forensic science education, training and research for professionals and students. In compliance with the Percent for Arts Program, the University sought the apt integration of artwork within the new facility. After an extensive search they commissioned Alan Saucier to develop artwork that would pay homage to and celebrate the disciplines pursued at the institute. This resulted in the creation of two monumental etched glass features, bold, iconic images of partial fingerprints wrought large on glass curtain walls.
The major piece, "Tri-partial" measures approximately 22' high and spans an 18' section of the atrium curtain wall. The etching depicts a large fingerprint with small letters embedded in the whorls of print. The letters T-C-G-A are arranged in random combinations of three and are representative of the sequence of tri-nucleotides in DNA or RNA that determines the specific amino acid sequence in the synthesis of proteins. It is the biochemical basis of heredity and nearly universal in all organisms.
A second piece, "Bi-partial" measures approximately 12' x 16' spanning a section of glass along an adjacent hallway. This etching is defined by a series of 0's and 1's representative of the binary code. Theses added layers of symbolism are creative and thought provoking, challenging the viewer to take a second or third look to discover the cumulative details that defines the image.