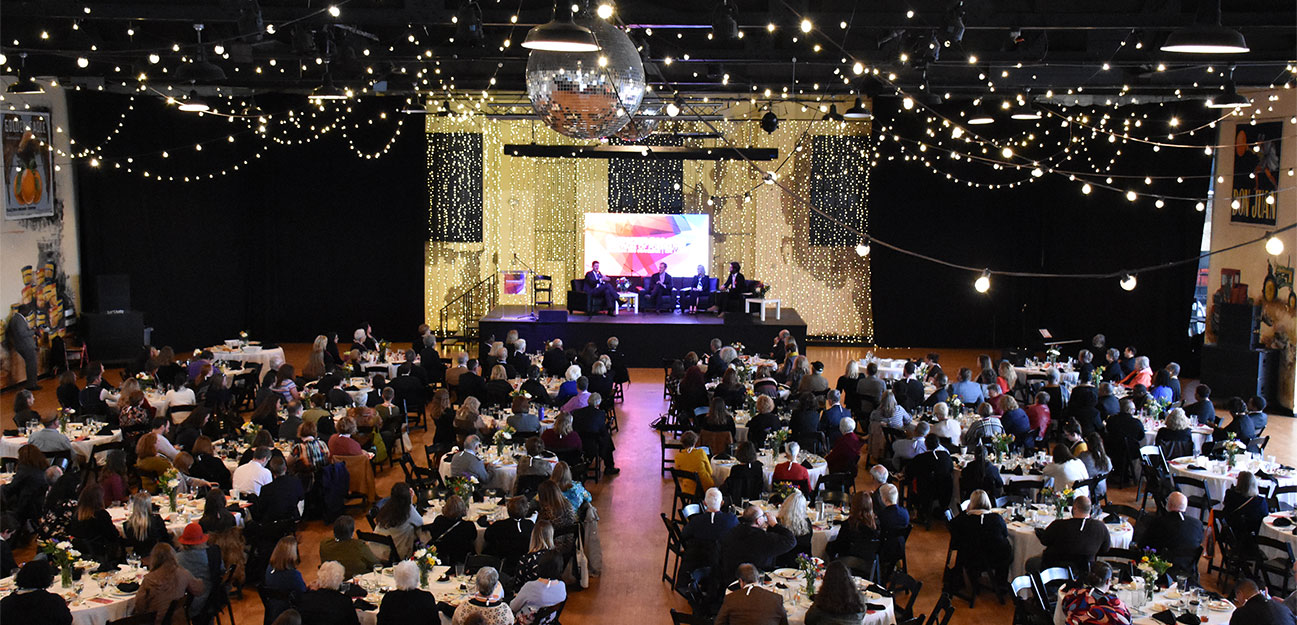 2021 Oklahoma Arts Conference
Embracing the Dawn
ShIron Butterfly Ray
ShIron Butterfly Ray is the Executive and Creative Director of the Bare Bones International Film & Music Festival, which is going on it's 24th year. A lifelong film enthusiast, Ray teaches filmmaking at Bacone College, and is a professional "filmpreneuer," producer, director, actor, cinematographer, photographer, special effects makeup artist, and more. Ray graduated from the Oklahoma Arts Council's Leadership Arts Class in 2011. She is also an alumni member of Muskogee Leadership Class XXI, former president of the Muskogee Area Arts Council, a founder of the Legacy Keepers R Us organization, which preserves history, culture, and arts one story at a time. Ray is the community co-chair for the 2021 Oklahoma Arts Conference.
ShIron Butterfly Ray's Schedule
Welcome to Muskgoee
Date: Thursday – October, 28 2021 Time: 9:00am - 9:45am
Room: Meeting Room E & F
Join your Muskogee hosts as they welcome you to the 2021 Oklahoma Arts Conference and provide information on how to make the most of your entire conference experience.
Indigenous Film Showcase
Date: Friday – October, 29 2021 Time: 9:15am - 10:15am
Room: Theater
Join Sarah Megan Kelley and ShIron Butterfly Ray for a sampling of short films that were featured at the 2021 Indigenous Film Festival in Muskogee. Presented by the Muskogee Oklahoma Native American Association (MONAA), the film festival was part of the community's Indigenous Peoples Day Celebration, highlighting films about the Native arts produced and told by Indigenous filmmakers. Featured films include: "Tribal City" by Cherokee Smith, "Indigenous Cuisine" by Annette Arkeketa, "Creation of Indigenous Peoples Celebration," by Megan Kelley, and the Sonya Oberly Skokomish Documentary.
Muskogee's New Festivals and Cultural Celebrations
Date: Friday – October, 29 2021 Time: 10:45am - 11:45am
Room: Theatre
The Localmotion Festival and Muskogee Oklahoma Native American Association's Indigenous People Celebration have created unique opportunities for the community to celebrate the history, art, and culture of Muskogee. Event coordinators will discuss steps taken in creating the events, from the initial concepts to implementation, and will highlight lessons learned along the way. Hear how organizers leveraged local partnerships and creativity to provide safe, meaningful, and fun celebrations for people of all ages. If you are considering starting or creating a new festival or community cultural celebration, this session is for you!
Q&A with Mrs. ShIron Butterfly Ray
Date: Friday – October, 29 2021 Time: 2:00pm - 3:00pm
Room: Theater
With a lifetime career in the film industry, ShIron Ray has seen it all and done it all. She founded the International Bare Bones Film Festival in 1999, which has been rated by
MovieMaker Magazine
as one of the Top 10 Small Town Film Festivals in the United States. Ray has depth of professional experience in all aspects of film production including: producing, directing, acting, cinematography, special effects, make-up, and more. She teaches film at Bacone College and has served as mentor for several filmmakers. For community leaders who would like to start a film festival or program, Ray can offer guidance and advice on how to get started.
Mvto "Thank You"
Date: Friday – October, 29 2021 Time: 4:30pm - 5:00pm
Room:
Join us for a fun conference send-off on the Muskogee Civic Center Plaza (located on the north side of the building) to celebrate the 2021 Oklahoma Arts Conference experience, featuring your Muskogee conference co-chairs Jordyn Jorgenson, ShIron Butterfly Ray, and Charles Moore for a moment of gratitude and well-wishes. Featured conference performers and rappers LiL Mike & FunnyBone will be there to keep it real. Should there be inclement weather, this event will take place inside the Civic Center.
Receive updates about the Oklahoma Arts Conference.
Questions?
For more information contact our Assistant Director.