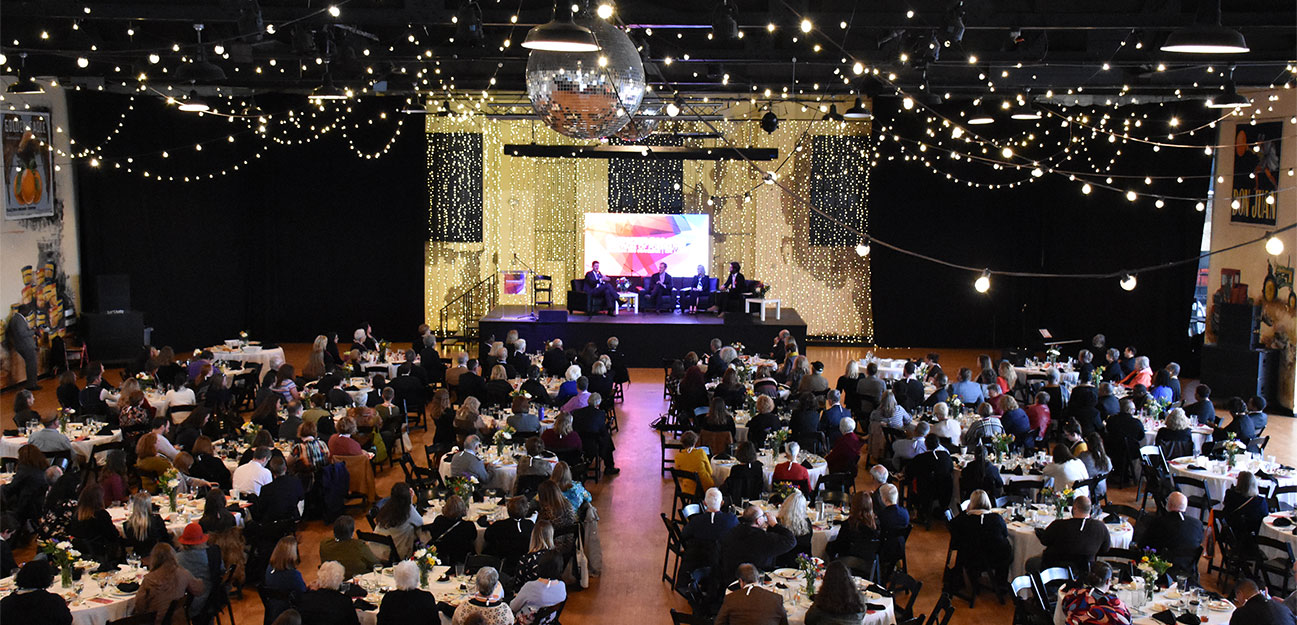 2021 Oklahoma Arts Conference
Embracing the Dawn
Scott Stulen
Scott Stulen is the CEO and President of Philbrook Museum of Art in Tulsa. Stulen is the former Curator of Audience Experiences and Performance at the Indianapolis Museum of Art (IMA), now Newfields, Project Director of mnartists.org at the Walker Art Center, and Associate Curator at the Rochester Art Center. He is also a practicing visual artist, curator, writer, and DJ. Stulen has an Master of Fine Arts in Painting and Drawing from the University of Minnesota and a Bachelor of Fine Arts in Sculpture from the University of Wisconsin-Eau Claire. At the Walker, Stulen co-curated and developed the Open Field project, reframing the museum as a public park, town square, and platform for experimentation, including the first Internet Cat Video Festival. At the IMA, he created the first Audience Experience and Performance curatorial department in the country, launched the ARTx program, commissioned new performances and site-specific installations, and launched new earned-income initiatives to welcome diverse audiences. Now at Philbrook, Stulen is guiding the museum to become a recognized national model of sustainability, relevance, and community impact. He facilitated the creation of a new 18 million dollar fund to diversify the museum's collection, added dozens of new programs and amenities to welcome new audiences, and created a new mission and strategic plan. During the pandemic, Philbrook hosted over 400 online programs, transformed the gardens into a community backyard, planted a 30,000 square foot "Victory Garden," produced nearly three tons of food for the local food bank and leveraged the museum shop to support local artists. In March, Philbrook opened an extensive series of exhibitions and reinstallation of the permanent collection addressing issues of race and violence in the United States in conjunction with the Tulsa Race Massacre centennial.
Scott Stulen's Schedule
Executive Directors Roundtable
Date: Wednesday – October, 27 2021 Time: 1:00pm - 4:00pm
Room: Lobby
Executive directors from Oklahoma's arts organizations will convene in an informal roundtable forum. This session will provide a space for executive directors to collectively discuss and address common challenges organizations have faced due to the pandemic, including changes in societal norms and workplace burnout. The group will work together to share innovative approaches for moving forward in turbulent times. Additionally, the second half of the program will focus on how organizations can work collaboratively to strengthen values, policies, and practices that foster a more diverse, equitable, inclusive, and accessible arts community. This roundtable session does not require conference registration, but individuals must RSVP to attend. To RSVP for this special pre-conference event, please email Oklahoma Arts Council Community Arts Director Cayla Lewis at cayla.lewis@arts.ok.gov no later than Friday, October 22.
Receive updates about the Oklahoma Arts Conference.
Questions?
For more information contact our Assistant Director.