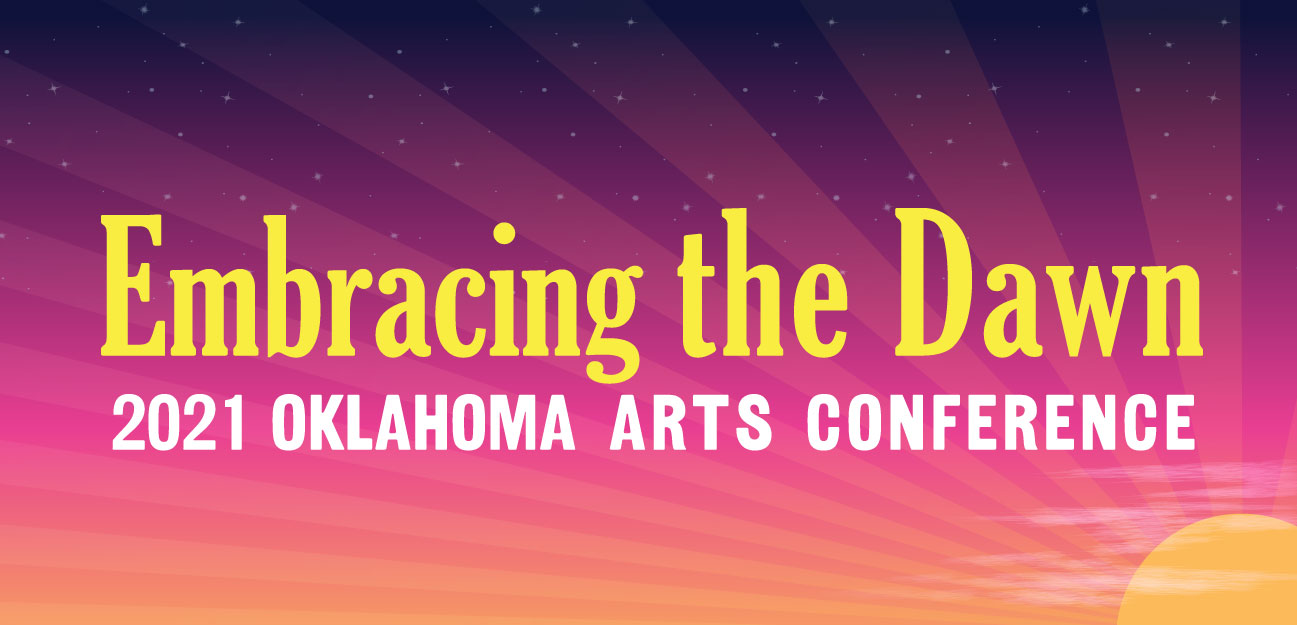 2021 Oklahoma Arts Conference
Things to Know
This year's Oklahoma Arts Conference will be an all-new exciting and invigorating experience, taking place in various venues throughout downtown Muskogee and the Depot District. The following information will help conference registrants prepare for their visit to Muskogee and their time at the conference.


Conference Registration and Headquarters:

The conference registration table and headquarters are located inside the Muskogee Civic Center, 425 Boston Street. Registration tables will be located in the lobby area on the first floor. Guests may enter from the south or north doors of the Muskogee Civic Center, and parking is available at no cost in the south and north parking lots.

All conference participants need to arrive first at the registration area at the Muskogee Civic Center to pick up their conference name badge, event booklet, and conference map. All guests must wear a conference name badge to enter the venues where conference programs and activities are scheduled.


Conference Venues include:


1. Muskogee Civic Center (HQ & Registration), 425 Boston Street, Muskogee, 74401

2. Muskogee Little Theatre, 311 S 3rd St, Muskogee, OK 74401

3. Roxy Theater, 220 W Okmulgee Ave, Muskogee, OK 74401

4. Three Rivers Museum, 220 Elgin St, Muskogee, OK 74401

5. Oklahoma Music Hall of Fame, 401 S 3rd St, Muskogee, OK 74401

6. Blue Rabbit Pottery & Art Studio, 508 S 3rd St, Muskogee, OK 74401

7. The Depot Green

8. Dr. Martin Luther King Jr. Community Center (Wednesday only)

9. Ataloa Lodge at Bacone College (Wednesday only), 2299 Old Bacone Rd., Muskogee, OK 74403

10. Oklahoma Blues Hall of Fame (Wednesday night only), 103020 DC Minner St, Rentiesville, OK 74459


Parking:

Ample parking is available in the lots adjacent to the Muskogee Civic Center and the Muskogee Little Theatre. Limited parking is available in the lot west of the Roxy Theater.

Parking is available adjacent to the Martin Luther King Community Center and Ataloa Lodge at Bacone College for the pre-conference meetings on Wednesday, October 27.


Getting Around the Conference:

The conference venues in downtown Muskogee are located within a short walking distance, and require no more than a five-minute walk. Shuttle bus service will also be available throughout Thursday, October 28 and Friday, October 29 to offer conference guests assistance in getting to and from the different venues. Shuttle service will also transport guests from the conference venues to the hotel district located near the West Shawnee Bypass (Hwy 62) and N. 32nd Intersection (Hwy 69).


Getting to and from Rentiesville on Wednesday Night

The pre-conference gathering at the Oklahoma Blues Hall of Fame and Museum is not to be missed! This special gathering will feature local blues musicians and food offered in the festive and historic juke joint home of D.C. Minner from 5:00 p.m. to 9:00 p.m. Rentiesville is located approximately 25 minutes south of Muskogee on Highway 69. Shuttles will run between the Muskogee Civic Center, the Muskogee Conference hotels, and the Oklahoma Blues Hall of Fame throughout the evening. The first shuttle will depart from Muskogee at 4:30 p.m.


What to Wear and Bring:

Due to the fact that this year's Oklahoma Arts Conference will take place in various locations, it's highly recommended that participants wear good walking shoes and comfortable clothing. Come prepared to be outdoors. Be sure to watch the weather forecast and don't leave home without your sunglasses and umbrella.


Resource Tables:

Resource tables will be in the Muskogee Civic Center lobby. Conference attendees are encouraged to bring printed materials and brochures to place on the tables. All materials not picked up at the end of the conference will be discarded.
Receive updates about the Oklahoma Arts Conference.
Questions?
For more information contact our Assistant Director.