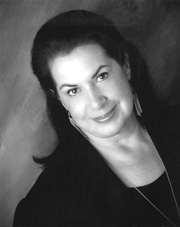 Booking Information:
Barbara McAlister
106 Gilcrest Rd.
Muskogee, OK 74403
Phone:
(646) 241-3299

Email:
Website:
Availability:
Year round
Fees:
Recitals and master voice classes with both music, theatre, and opera: $2000
Bio:
American dramatic mezzo-soprano Barbara McAlister, of Cherokee Indian heritage, began her operatic career as an apprentice with the Santa Fe Opera Company and Central City Opera Company. After Santa Fe and Central City, she has gone on to perform with the The Washington Opera Company, Cherokee Heritage Center, Arizona Opera, San Diego Opera, Tulsa Opera, Florentine Opera, New York Grand Opera and Opera New England.
Ms. McAlister's Los Angeles voice teacher was Lee Sweetland and in NYC it is Steve Sweetland.
Ms. McAlister's international career was launched when she won the prestigious Loren Zachary Competition in Los Angeles. She was subsequently engaged to perform the dramatic mezzo-soprano repertoire in the opera houses of Passau, Koblenz, Bremerhaven, and Flensburg in Germany, as well as in Monte Carlo, Cannes, Modena, Ferrara, Paris, Lisbon and Hong Kong. She toured France with the New Bulgarian Opera as Ortrud in Lohengrin and returned the following year as the mezzo soloist in the Verdi Requiem. She was also the recipient of the NY Wagner Society Grant.
Ms. McAlister has been heard as a soloist in concert at Carnegie Hall, Alice Tully Hall, and Weill Recital Hall, appearing with such prominent orchestras as the Houston Symphony, the D?sseldorf Symphony, and the Symphony in Passau. She has given recitals for the Mid-America Arts Alliance Touring Program and the Oklahoma State Arts Council Touring Program, singing opera arias and Native American songs in the Cherokee, Chippewa, and Winnebago languages. She created the role of Qualla in Lindor Chlarsson's opera Mountain Windsong, based on the Cherokee Trail of Tears. She played Selu in the Trail of Tears drama/musical at Tsa-la-gi ourdoor amphitheater in Tahlequah, Oklahoma. "The power of her voice and presence elevates every scene in which she appears." Tulsa World.
In addition to her career as an opera and concert soloist, Ms. McAlister is a renowned Native American visual artist. Her paintings have been shown at the Five Civilized Tribes Museum and Jacobson House in Oklahoma, the Wharton Art Gallery in Philadelphia, and Bullock's in Los Angeles. Many are now in private collections throughout the United States and Europe.
In l999 Ms. McAlister was a recipient of the Cherokee Medal of Honor.
Singing programs include musical theater songs, opera, and traditional Cherokee songs.