Al Bostick
Basically Bostick Projects, Inc.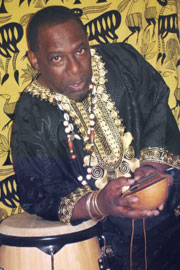 Booking Information:
Albert Bostick
4517 N. Pennsylvania #1C
Oklahoma City, OK 73112
Phone:
(405) 706-3869
Email:
Website:
Availability:
Year round
Fees:
Of Bass Reeves,Bill Pickett & Buffalo Soldiers: $850 to $1300
Anansi the Spider: $850 to $1300
Fabulous Fibs, Fables & Folklore: $750 to $1000
Black Voices: $850 to $1500
Bio:
Master storyteller, griot, and Renaissance man, Al Bostick presents performances that delight, teach, and stimulate the mind, body and spirit. Travel to the past with Of Bass Reeves, Bill Pickett & Buffalo Soldiers and witness the feats and exploits of Black cowboys, lawmen and Buffalo Soldiers that worked and help establish the Oklahoma Territory.
Listen to the sounds of the jungle, listen to the beat of the drum, follow the African Trickster, arachnid, Anansi the Spider, as he dupes the larger animals?in Anansi?The Spider. Follow the wit wisdom and laughter of Africans and African-American slaves in Fabulous Fibs, Fables & Folklore?revel in the folklore and proverbs and melodies that grew out of the misery of slavery and rose to the triumph of spiritual experience of Black life and attitude!
Take the A-Train and witness the Harlem Renaissance through the voices of Langston Hughes, Zora Neale Hurston, Paul Laurence Dunbar and many others who were and are the talented Tenth! See the foundation they laid for the spoken word in Black Voices? performed against a background of Black visual art! Book now and experience the artistry of Basically Bostick Projects.