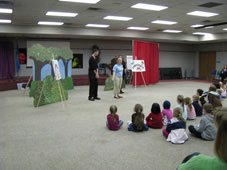 Booking Information:
Jennifer Skinner
Cimarron Opera
P.O. Box 1085
Norman , OK 73070-1085
Phone:
(405) 364-8962
Email:
Website:
Availability:
Primarily October through May
Some evenings and weekends are possible
Fees:
Children's Opera (Available October 1 - May 15) $500-$1500
Concert/Performance (90 min) (Available Oct. 1 - April 30) $1000-$1500
Mini-Concert/performance (30-45 min) (Available Oct. 1 - April 30)
Bio:
Performing and delighting audiences throughout the state since 1975, Cimarron Opera attracts promising singers throughout Oklahoma, rewarding them with solid experiences and valuable training beyond the traditional studio-classroom setting. The company has toured children's operas such as Little Red Riding Hood, Snow White and the Seven Dwarfs and many others. A recent children's opera, performed during the 2011-2012 touring season was The Three Little Pigs, featuring the music of Mozart. The production demonstrated the power of learning and research to outsmart the Wolfgang Bigbad by building a "huff-proof, puff-proof" house. Cimarron Opera makes available other touring programs and performances to fit any event.