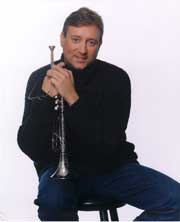 Booking Information:
DBH Productions, Inc.
5030 N. May, Suite 112
Oklahoma City, OK 73112
Phone:
(405) 209-3870

Email:
Website:
Availability:
Year round
Fees:
Services during next 2 years - $2,000 - 10,000
Bio:
Grammy and Emmy nominated musician David B. Hooten is a trumpet soloist residing in Oklahoma City. His busy schedule includes appearances throughout the world as a guest trumpet soloist in recitals and with symphony orchestras all year long.
David has been a soloist with The Kiev Symphony Orchestra, The Garland Symphony Orchestra, The East Texas Symphony Orchestra, The Oklahoma Youth Orchestra, The Enid Symphony Orchestra, The Mormon Youth Orchestra and Choir, The Thailand National Symphony Orchestra (for Thailand's gala event of the year), and The Queen's 60th Birthday. David has performed numerous times as a soloist with the Oklahoma City Philharmonic with Conductor Joel Levine quoted as saying, "David is a joy to work with! He really knows how to excite the audience!"
David had the honor of performing "Amazing Grace" for a worldwide audience to open the Memorial Ceremony for the victims of the Oklahoma City bombing. He has also performed the National Anthem at Yankee Stadium and the season opener for the Dallas Cowboys. David has performed numerous times on "The Hour of Power" television show from the Crystal Cathedral in Garden Grove, CA., and he is the official trumpeter for the "Palmer Cup," and performs throughout the world for this worldwide college golf event.