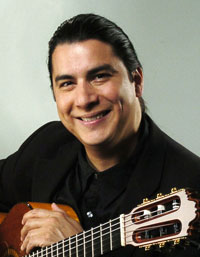 Booking Information:
Edgar Cruz
PO Box 720565
Oklahoma City , OK 73172
Phone:
(405) 773-3427
(405) 620-1882
Julie Larcher, assistant:
(405) 919-6784

Email:
Website:
Availability:
Year round
Fees:
Solo guitar performance: $1200 - $3000
Solo guitar performance with orchestra: $3000 - $6000
The Cruz Brothers (Edgar and Mark): $3000
Duet with trumpeter David Hooten: $4000
Edgar Cruz and Flamenco Fantastico: $4,000 (Shannon Calderon and dancers)
Children's Concert: $600
Masterclass and/or workshop: $600
Bio:
Those who have witnessed an Edgar Cruz performance become entranced at the precision, speed and complexity with which his fingers create a symphony of sounds unusual to just one instrument. Each year, Cruz performs more than 200 concerts throughout Oklahoma and the U.S., and abroad in Europe and South America. Cruz has been a featured performer at the prestigious Chet Atkins Guitar Festival in Nashville every July since 1995, and he is a well-known performer at many of Oklahoma's major festivals.

Cruz offers an incredible live repertoire of the greatest hits of the guitar, such as Malague?a, Classical Gas, Bohemian Rhapsody, In the Mood, Dueling Banjos, and Hotel California. His performances often include a classical medley, Latin favorites, originals and improvised medleys. Cruz's diverse musical styling ranges from salsa and flamenco music to jazz, classic rock, Christmas music and more.

Cruz has been named Oklahoma's Top Performing Artist and/or Acoustic Guitarist for more than 15 years by the Oklahoma Gazette. He has received numerous civic acknowledgments for his contributions to various charitable events. Cruz is available for a wide variety of bookings including concerts, festivals, weddings, receptions, banquets, schools, churches, conventions, fiestas, memorials or any special occasion. Cruz holds a bachelor's degree in guitar performance from Oklahoma City University, where, in 2010, he was honored with a Distinguished Alumni Award. His YouTube video of Bohemian Rhapsody reached 15,000,000 hits worldwide.