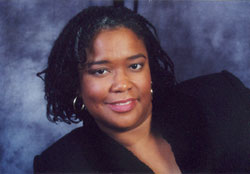 Booking Information:
Erica C. Thomas
P.O. Box 417
Nicoma Park, OK 73066
Phone:
(405) 769-2967
(405) 830-8889

Email:
Availability:
Year round

Fees:
Solo Recital (90 minutes) $1200 - $2000
Solo/Oratorio appearance with Orchestra $650 - $1000
Master Class (4-8 students) $350 - $650
Bio:
Erica C. Thomas has been an integral part of the artistic community in Oklahoma for over 20 years. "Beautiful," "gorgeous," and "it's like butter" are all ways people have described her voice. Her interpretations of opera, spirituals and songs from musical theatre have captured hearts and imaginations all over the country. Ms. Thomas always brings to the community recitals that celebrate diverse musical tastes and styles. She can be relied upon to use her classical training to assist vocal students in development of their craft by providing guidance on how to improve stage presence, musicianship and artistic expression. As former director of the Cimarron Circuit Opera Company, Erica worked to help develop young talent. She continues to bring a wealth of expertise and a love for the theatre to every venue she performs.