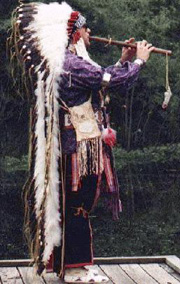 Booking Information:
J.C. High Eagle
P.O. Box 76141
Oklahoma City, OK 73147
Phone:
(405) 943-4091

Email:
Website:
Availability:
Year round
Fees:
Performance/concert $350 ? $750 Range. Programs tailored for solo concerts, museums, school programs, scouting events, banquets/dinners, & lectures/speaking
Bio:
Something for everyone, all ages, all cultures.
American Indian Flute Performance: Open to a world of ancient sound with the primal flute. Discover the indigenous flute soloed in its truest natural beauty and grandeur. Experience harmony and balance blended with simple elegance. Stories of each tune are presented. Educational, historical . . . entertaining! The native flute has a haunting, soulful sound that penetrates and permeates the world around it.

Country Music Performance: Country music performed live in traditional country style with karaoke tracks. Great for easy listening or dancing two-step. All tunes from latest CD recorded in Nashville: Keep'n It Country. Instruments are violin, guitar, bass guitar and drums. High Eagle is a pro member of the Nashville Songwriters Association International, and full member of the American Society of Composers, Authors & Publishers and his music has much appeal because his listeners have been there, identifying with the same feelings, emotions and experiences. Very entertaining!