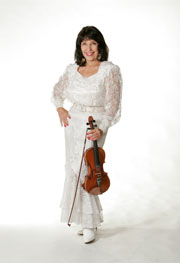 Booking Information:
Kathleen Pixley
Jana Jae Enterprises
P.O. Box 35726
Tulsa, OK 74153
Phone:
(918) 786-8896 (day)
(918) 786-6176 (evening)

Email:
janajae1@att.net
kathleenpixley@sbcglobal.net

Website:
Availability:
Year round
Fees:
Solo with full orchestra $4,500
Concert $4,000
Workshop $1,750 or $500 in conjunction with above
Two-day residency $3,000
Prices will vary depending on location and venue. Please call to get an accurate quote.
Bio:
Jana Jae, versatile violinist/fiddler, blends country fiddling with western swing, bluegrass and the classics. She has received critical acclaim for thrilling performances that continue to be enjoyed by people of all ages. Whether playing pops concerts with symphony orchestras, performing at state fairs or presenting a concert backed up by her touring group of talented musicians, Ms. Jae has an uncanny gift for knowing how to give any audience what it wants. All types of music lovers enjoy Jana's diverse repertoire. This talented performer taught music prior to taking her show on the road. She and her trademark blue fiddle gained national attention as a regular part of the team on the television show, Hee Haw. Appearing alongside musical greats such as Chet Atkins, Roy Clark, the Oakridge Boys and Ricky Skaggs, Jana Jae developed a stellar reputation as a solo artist with her one-of-a-kind style.