Joann McMillan's Flying Heart Theatre
& Miss Fay's Touring Historical Marionette Theatre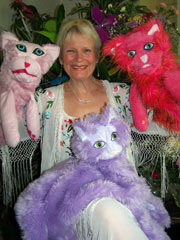 Booking Information:
Joann McMillan
Route 5, Box 210
Eufaula, OK 74432
Phone:
(918) 707-3000

Email:
Website:
Availability:
Year round
Fees:
1 or 2 performances same location same day - $400-$700
All day performance/ workshop - $400-$800
Festival performances per day - $500-$800
Miss Fay's Historical Marionettes 2 day engagement - $1,000 - $1,500
Bio:
Joann McMillan is the puppeteer and artistic director for both of these programs:
Flying Heart Theatre: Joann McMillan's unique style of puppeteering is a combination of storytelling with every type and size of puppet and costumes and extensive audience participation. The very lively action and dialogue are often complemented with large colorful projected photos, art, animations and video clips on a power point which also provides music and sound effects. Programs include: Uncvorn Island (wildlife preservation) Puppets: Always and Everywhere (history of puppetry) Dragons (pure fun) Bug My Garden (environmental issues). All are adaptable to all ages and a wide range of venues. Giant puppet parades are part of some shows and are also available for festivals. Workshops can be designed for event preparation, educators, or for children in conjunction with a performance in which they participate.
Miss Fay's Touring Historical Marionette Theatre: This state and national award winning program is a traditional proscenium marionette show. One of 4 plays about Oklahoma history is presented each year. This program was designed for fourth grade students and because of the extensively researched scripts, state of the art wooden marionettes and professional presentation, has proven itself successful with adults and audiences of mixed ages as well. Due to extensive set-up this program has a 2 day minimum booking.