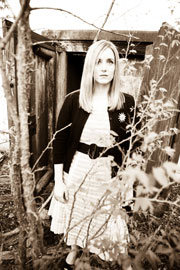 Booking Information:
KC Clifford
PO Box 60512
Oklahoma City , OK 73146
Phone:
(405) 210-1852
Email:
Website:
Availability:
Year round
Fees:
Live Concert Performance with 2 performers: $2000- $5000
Songwriting Lectures/Workshops with 2 performers: $800 - $2000
Creativity Lectures/Workshops: $800-$2000
Bio:
K.C. Clifford is a three-time Woody Guthrie Award-winning folk singer-songwriter from Oklahoma City known for her powerful voice, stage presence and courageous lyrical style. Orchid, her fourth independently produced album, was released in March of 2010.
Clifford's prolific 10-year career is marked by a long list of awards and achievements, and a devoted fan base she treats more like extended family. Her first full length album, Times Like These (2000) received critical acclaim. In 2004, she released her second album, Teeth-marks on my Tongue.
Her life-long battle with weight-loss and depression has often been a catalyst for writing and creating original music. In March 2009, Clifford's story was the focus of a special segment on the NBC reality television show "The Biggest Loser." During the previous year she had lost more than 100 pounds, on her own, and wrote a powerful song about hunger for the Regional Food Bank of Oklahoma called "Raise Your Voice." The experience led to a series of performances at food banks across the country.
"It is hard not to imagine every female singer currently promoted by Nashville begging to record them, but these are the kind of songs that are best brought forward by the person who wrote them. ?this songwriter's lyrical approach is direct and personal, and her melodies are instantly memorable, never falling into pattern or formula. It certainly doesn't hurt that she has an extraordinary voice, but the songs themselves steal the show." - George Lang, The Oklahoman.