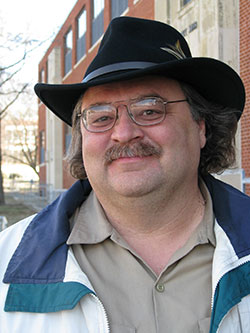 Booking Information:
Ken Hada
P.O. Box 555
Ada, OK
Phone:
(580) 559-5557
Email:
Website:
Availability:
Year round

Fees:
$250 -$1000
Bio:
Ken Hada has been publishing poetry in regional and national journals since 2002. He has an active reading/performing schedule of his poetry, often in collaborative art events. Hada has read his original work throughout Oklahoma, much of Texas, Albuquerque, Santa Fe, Missouri, Arkansas, South Carolina, Chicago, and New York. He has read in coffee shops, universities, junior colleges, high schools, middles schools, community libraries, churches, prisons, theaters, coffee shops, among other locations. Hada enjoys interacting with his many diverse audiences.
In addition to Hada's public peformance schedule, and in addition to a significant publishing record of peer-reviewed journals, he has published four volumes of poetry, including: "The Way of the Wind" (Village Books Press, 2008), "Spare Parts" (Mongrel Empire Press, 2010), "The River White: A Confluence of Brush & Quill" (Mongrel Empire Press, 2011), and "Margaritas & Redfish" (Lamar UP, 2013). "Spare Parts" received the "Wrangler" award for outstanding poetry from National Western Heritage Museum and Cowboy Hall of Fame. Poems from this collection were featured four times on Garrison Keillor's nationally syndicated program "The Writer's Almanac." "The River White" and "Spare Parts" were also finalists for the Oklahoma Book Award.
The "River White" is a collaborative project, featuring Hada's ekphrastic poetry and 44 plein air watercolors from his brother's journeys on the White River. He has collaborated on a CD, "Like Father, Like Son: A Narrative in Guitar and Poetry," which features 17 of his poems and 12 original guitar compositions created by his son. Hada often performs with his brother and son at collaborative events - live painting accompanied with music and poetry. In addition, Hada's fifth manuscript, "Persimmon Sunday," is currently under submission to a publisher. A chapbook written by Hada was published and translated with link poems (English & Japanese) by Ogaki Women's College.
Hada is well-respected throughout the state and beyond as an accomplished poet. His website www.kenhada.org offers reviews of his work and a full curriculum vitae with other relevant information. Hada finds few things as pleasurable as reading poetry to a group and following up with discussion and/or a workshop.
Much of Hada's work is grounded in nature. He is often referred to as a "red dirt poet," though his work goes beyond this. He is keen on hearing the voices of nature, aligning the speaker within the space of our organic world. He has found that an honest rendering is successfully received by inner city kids in Killeen, Texas and Austin, as well as sophisticated poets in New York City. In simplest terms, he may be described as a lyrical poet of place, with occasional narrative poetry included.