Les Gilliam
The Oklahoma Balladeer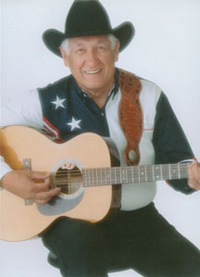 Booking Information:
Les Gilliam
P.O. Box 350
Ponca City, OK 74602
Phone:
(580) 762-4837
(580) 761-1703

Email:
Website:
Availability:
Year round
Fees:
Les and his guitar $1000-$1500
The Les Gilliam Trio $2000-$2500
Les and The Silver Lake Band $2500-$3000
Bio:
Designated the official "Oklahoma Balldeer" by the state Legislature in 1998, Les Gilliam is an award-winning singer/songwriter and recording artist from Gene Autry, Oklahoma. Gilliam's concerts include cowboy, western swing, country and gospel music along with fascinating stories about the songs and artists who performed them. Gilliam's performances include his original songs with accompanying lighthearted humor, offering a touch of nostalgia and old-fashioned patriotism.
Among Gilliam's many awards are his 2010 induction into the Oklahoma Music Hall of Fame, his prestigious 2005 Wrangler Award from the National Cowboy and Western Heritage Museum, and a 2006 Oklahoma Governor's Arts Award. In 2010, his composition and recording of the song Oklahoma 1955 was selected as the Western Swing Song of the Year by the Academy of Western Artists.

During his distinguished career, Gilliam has performed at the Kennedy Center in Washington, D.C.; the International Country Music Festival in Vienna, Austria; the Gene Autry Film and Music Festival in Gene Autry, Oklahoma; Rex Allen Days in Wilcox, Arizona; and the Gene Autry Museum of the American West in California among many other festivals and events. Gilliam and his Silver Lake Band perform annually at Silver Dollar City in Branson, Missouri.