Oklahoma Children's Theatre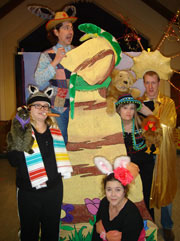 Booking Information:
Elin Bhaird
Oklahoma Children's Theatre
2501 N. Blackwelder
Oklahoma City, OK 73106
Phone:
(405) 606-7003
(405) 606-7043

Email:
reception@oklahomachildrenstheatre.org

Website:
www.oklahomachildrenstheatre.org
Availability:
Year-round

Fees:
$750 to $850
Bio:
The Oklahoma Children's Theatre provides exceptional opportunities for children to develop their creative potential through viewing and participating in theatrical productions and to provide related interactive educational experiences. Professional actors perform in shows that are available to children 5-12.
Oklahoma Children's Theatre has more than 15 years of experience educating while entertaining children throughout the state. The company offers a variety of different programs staged with energetic direction, fascinating sets, brilliant costumes and the finest performers available.