Paul Belanger
The Old Man of the Mountain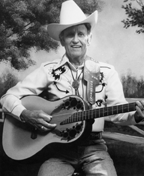 Booking Information:
Paul Belanger
PO Box 221
Gene Autry, OK 73436
Phone:
(580) 294-3746

Availability:
Year round
Fees:
Full concert $300
Bio:
Born in the rugged north woods of New Hampshire, yodeler Paul Belanger began life as one of the middle children in a family of 14. His French-Canadian parentage brought to him a background rich in music, folklore and homespun philosophy. At the age of 12, Paul resurrected an old guitar, fixed it up and taught himself to play. During a World War II tour of duty, he met many people of varied country and musical backgrounds; these experiences had a profound effect on Paul's music. Afterwards, he returned to New Hampshire where he had a weekly radio show for more than 30 years.
Today, music continues to be a big part of Paul's life. In 1995, he won first place in the National Yodeling Championship and first in the International Swiss Yodeling Championship. Also, in 1995, he won the Country Music Association's Songwriter of the Year for Big Wheels. Moreover, in 1997, Country Music of American named him Male Entertainer of the Year, along with awarding him Album of the Year and Cassette of the Year.