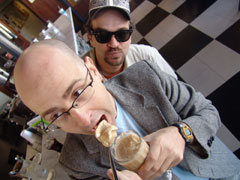 Booking Information:
Chris Wiser
3604 NE 141st Ct.
Edmond, OK 73013
Phone:
(405) 514-5676

Email:
Website:
Availability:
Year round

Fees:
School Assemby/Children's Show: $350 - $700 (multiple show discounts)
Community Concert/Festival Performance: $800-$1250
Performing Arts Corps fee (only available to elementary schools): $250
Bio:
The Sugar Free Allstars are a fun and funky organ/drum duo with lots of energy. They have toured all over the country playing clubs, festivals, libraries and schools. Their music has appeared on PBS' "Roadtrip Nation" and their 2nd and 3rd albums have spent time on Jambands.com's top 30 radio charts. Their 4th CD, and first for kids, "Dos Ninos" has received critical acclaim from national children's music reviewers and made it into Fids and Kamily's top 15 "Best Music of 2007 for Kids and Families" awards list. Several of the tunes from the album have gotten extensive airplay on XMKiDs (XM radio channel 116), including the number one hit "Bathtub Boy."
A Sugar Free Allstars show is full of groovy music that is fun for all ages. An eclectic mix of New Orleans funk, Memphis soul, Hammond organ-drenched gospel and straight up rock and roll combine with quirky and witty lyrics to create songs that audiences can't help but clap, dance, laugh and sing along to. Programs can be tailored to the crowd demographic, whether it's kids, families or adults.